Gingersnap sweet potato casserole
Can't get your kids to eat their sweet potatoes? Forget putting marshmallows or brown sugar on top, instead, top that casserole with gingersnap cookies! The sweet potatoes are mashed so they are light and fluffy, the perfect contrast to the crunchy cookies. Sure, giving your kids cookies with their vegetables may be cheating, but as long as they eat them, who cares!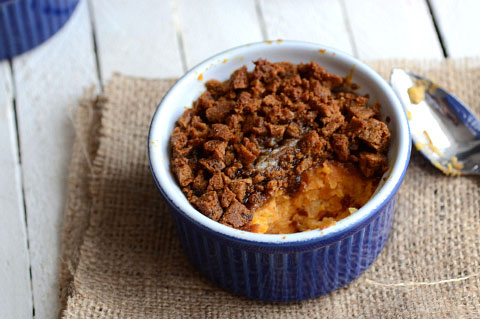 Turn this holiday classic into something your kids will ask for by name just by adding a few crumbles of gingersnaps on top! Plus, by serving this dish in little ramekins, it's easier for their little hands to eat. But don't think this casserole is only for the kids, adults will be gobbling it up just as quickly as the younger ones!
Gingersnap sweet potato casserole
Serves 6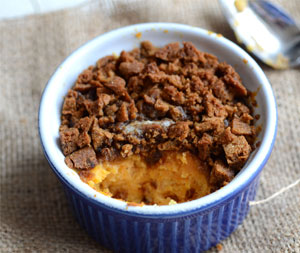 Ingredients: 
3 large sweet potatoes
2 eggs, lightly beaten
1/2 cup brown sugar
1 teaspoon vanilla
Salt and pepper to taste
1/2 cup light cream
2/3 cup melted butter
About 3 cups crushed gingersnap cookies
Directions: 
Preheat the oven to 350 degrees F. Grease 6 ramekins (or one 8 x 8-inch baking dish) with nonstick cooking spray and set aside.
Punch holes in the sweet potatoes with a fork. Place the sweet potatoes in the microwave and heat until soft, about 5 - 6 minutes on high. Potatoes need to be soft enough to scoop out.
Once the potatoes are done, scoop out the insides and place in a large mixing bowl. Add the eggs, brown sugar, vanilla, light cream, 1/2 cup of melted butter and salt and pepper. Beat until mashed with an electric mixer.
Scoop the mashed potatoes into the ramekins or the greased baking dish. Crumble the cookies on top to completely cover the potatoes.
Bake for about 35 - 40 minutes, or until hot and browned.
More side dish recipes
Bacon and goat cheese stuffed apples
Mini homemade green bean casseroles
Slow-cooker scalloped potatoes