Christmas cupcake wreath
Who said cupcakes couldn't double as decorations? This adorable cupcake wreath is 100 percent edible and perfectly festive for your holiday table. Plus, it couldn't be easier. All you need are some cupcakes, some pretty green and red icing... and your imagination!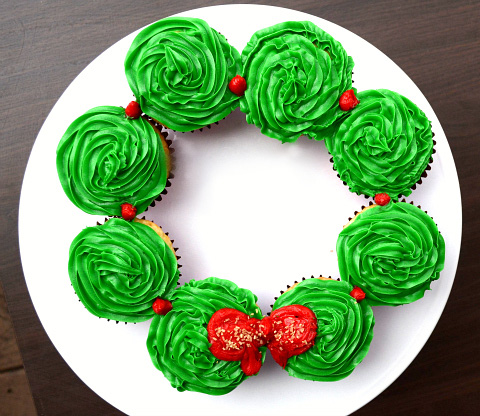 Sadly, this cupcake wreath doesn't work as door decor (unless you want to spend your afternoon scrubbing green icing from your window). However, it makes the perfect centerpiece for your dinner table or the kids' table! Just be careful, they will probably all disappear before dinner even starts!
Christmas cupcake wreath
Yields about 24 cupcakes (and one wreath)
Ingredients:
2 boxes cake mix (chocolate or vanilla will work)
6 eggs
2/3 cup oil
2 cups water
Green cupcake icing (like this)
Red icing gel (like this)
Directions: 
Preheat oven to 350 degrees F. Line 2 muffin tins with cupcake liners and set aside.
Mix the eggs, oil, water and cake mixes together in a large mixing bowl until fully combined. Fill each cavity about 2/3 the way full.
Bake the cupcakes for about 22 minutes or until golden and a toothpick inserted in the middle comes out clean.
Let the cupcakes cool completely before you frost. Once cooled, frost with the green icing gel. Add dots of red around the green to make the berries.
Form the cupcakes in a circle and use as decorations!
More Christmas dessert recipes
Creative Christmas dessert recipes
Christmas bread pudding
Cupcakes too pretty to eat