Easy snowman pizza recipe
Brace yourself for the cutest pizza you will ever lay your eyes on. This plump snowman pizza will be an instant hit at your house and is an easy, fun way to add some festive flair to your typical pizza nights. Just beware, he's almost too cute to eat!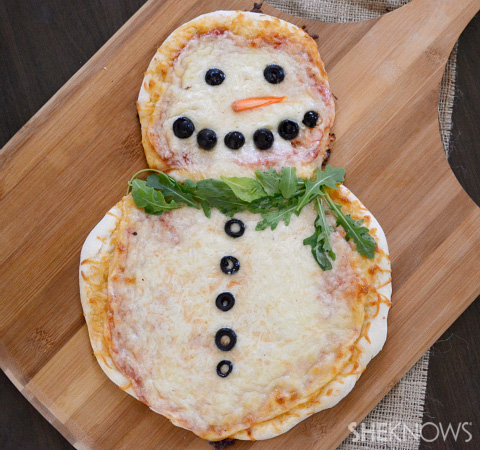 The wonderful thing about this pizza is you don't need any extra fancy ingredients to make it! Just a few extra additions turn this regular pizza into a cute winter inspired snowman! If your kids aren't fans of the arugula for the scarf, a bell pepper or tomatoes work too!
Snowman pizza recipe
Serves about 8
Ingredients: 
For the crust: 
1 package active dry yeast
1 teaspoon sugar
1 cup warm water (110 degrees F)
2-1/2 cups bread flour
1 tablespoon olive oil
Salt
For the topping: 
2 cups shredded mozzarella cheese
1/2 marinara or pizza sauce
Black olives
1 small carrot sliver
Arugula for the scarf
Directions: 
Preheat your oven to 375 degrees F. Lightly grease a pizza pan with nonstick cooking spray.
In a large bowl, mix together the sugar, yeast and water. Let sit for about 10 minutes, or until foamy. Add in the flour, oil and salt and mix until a soft dough forms.
Place the dough on a lightly floured surface and knead until soft and elastic, about 8 minutes. Cut off 1/3 of the dough and set aside.
Using a lightly floured rolling pin, roll out the larger part of the dough into a medium-size circle. Place on the greased pizza pan. Roll out the smaller piece of dough into a smaller circle. Place on top of the medium circle, slightly overlapping the medium piece.
Cover the medium and small circles with tomato sauce, leaving about 1/2 inch border of dough. Cover the sauce liberally with cheese. Using the olives, make two eyes, a mouth and buttons. Place the carrot sliver above the mouth for the nose.
Bake the pizza for about 15 minutes, or until the crust is golden brown and the cheese is melted. Using the arugula, make a scarf around the bottom of the head.
More fun pizza recipes
English muffin pizzas
Mini zucchini pizzas recipe
Spooky ghost pizza for Halloween