The Grinch who stole snack mix recipe
While a particular cereal company has snack mix you can buy in bags, we're not so sure it isn't more fun to make yourself, given how easy it is. You can whip up this spicy version in less than half an hour!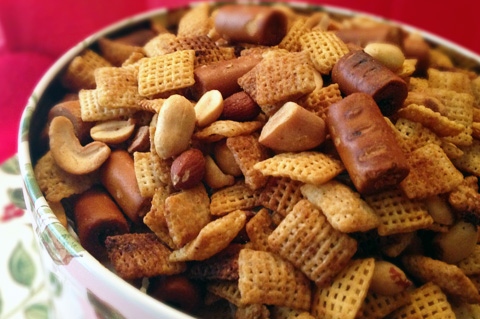 The key to this recipe is controlling the hot sauce. The specific brand you choose will affect the spice and the flavor. And if this will be fed to small children, you should go with a mild version — though we like the kicked up version so much better! No matter what sauce you choose, this fun snack mix is sure to land you on the Christmas lists of all the Whos in Whoville!
The Grinch who stole snack mix recipe
Serves 4
Ingredients:
1 cup unsweetened corn cereal
1-1/2 cups unsweetened rice cereal
1 cup bite-sized cheese-filled pretzels
1/2 cup mixed nuts or peanuts
1 tablespoon plus 1 teaspoon butter, melted
1 teaspoon Worcestershire sauce
1/2 scant teaspoon seasoned salt
1 to 3 teaspoons red pepper sauce
Directions:
Place the cereals, pretzels and nuts into a sealable plastic baggie.
Mix the melted butter, Worcestershire sauce, seasoned salt and red pepper sauce.
Pour the sauce into the baggie a couple of teaspoons at a time, seal it (without removing the excess air) and shake to combine. Continue until all the sauce is used.
Transfer the mix to a large microwave-safe bowl. Microwave on high, 1 minute at a time, stirring between minutes, for 3 or 4 minutes, being careful not to burn the mix.
Spread the mix onto a paper towel to cool.
More holiday recipes
4 Fast holiday appetizers
Snowy sweet Christmas desserts
12 Days of Christmas recipes