Cookie cutter mini pizza recipe
The holidays are a hectic time. Keep dinner simple with easy mini pizzas cut out with cookie cutters. The kids will love decorating the pizzas with all of their favorite toppings!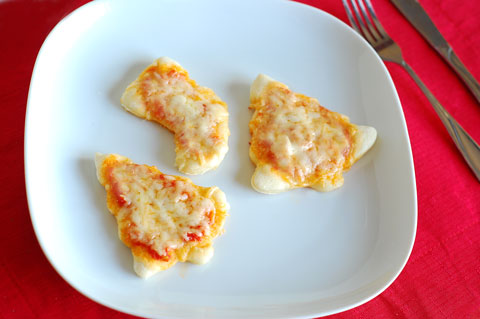 Cookie cutter mini pizza recipe
Serves 4-6
Ingredients:
2 to 2-1/2 cups all-purpose flour
1 envelope pizza yeast
2 teaspoons sugar
1 teaspoon salt
2/3 cup very warm water
2 tablespoons olive oil
1 cup pizza sauce
2 cups shredded mozzarella cheese
Your favorite pizza toppings
Directions:
Preheat the oven to 425 degrees F.
In a large bowl, mix together 1 cup of flour, yeast, sugar and salt.
Add in the water and mix until the ingredients are well combined.
Slowly add enough of the remaining flour to form a soft dough.
Knead the dough on a floured surface until smooth, approximately 3-4 minutes.
Roll the dough out on a floured surface to approximately 1/8-inch thickness.
Use a cookie cutter to cut out the dough. Transfer the dough shapes to a well-greased cookie sheet.
Top the dough with pizza sauce, cheese and your favorite pizza toppings.
Bake the mini pizzas in the oven for 8-10 minutes, until the cheese is bubbly and the crust is lightly browned.
More holiday recipes
Extra fudgy peppermint hot chocolate cookies
Snowman doughnut pops
Cranberry and white chocolate cookies recipe