Mini snowflake quesadillas
Do you have some serious picky eaters on your hands? As in, they will only eat three kinds of foods: cheese, carbs and chips? If the answer is yes, don't spend another day force feeding a grumpy kid. Instead, serve them a few of these adorable snowflake quesadillas! Plus they only have three ingredients ,what's not to love?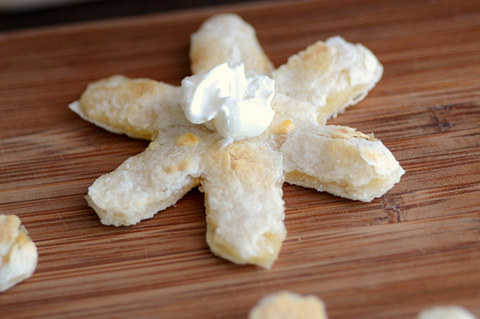 Not only are these a great idea for quick dinners, they are an even better idea for after-school snacks! A few of these will have your kids quiet for at least 15 minutes, which during the holiday season is a godsend! To keep them occupied longer, teach them how to make the snowflakes themselves!
Mini snowflake quesadillas
Yields about 6 quesadillas
Ingredients: 
2 large flour tortillas
1/3 cup shredded sharp cheddar cheese
1/3 cup shredded mozzarella cheese
Snow flake cookie cutter
Directions: 
Preheat your oven to 350 degrees F. Lightly grease a large cookie sheet.
Spread the two cheeses liberally over one of the tortillas. Place the other tortilla on top of the one topped with cheese and press the ends down a little to keep the cheese inside.
Bake for about 10 minutes, or until the tortillas are golden brown and the cheese is melted. Let cool for about 2 minutes.
After the quesadillas have cooled slightly, carefully cut out snowflake shapes with your cookie cutter. You may need to push down hard or use a knife to cut the thicker parts of the tortilla. Top each snowflake with a dollop of sour cream and enjoy!
More kid-friendly afterschool snacks
After-school snacks your kids can prepare
Easy snacks for after-school hangouts
5 After-school snacks for a rainy day