Getting kids involved in holiday baking
Baking isn't just fun for kids — it's also educational. They learn about measurements, time-management and patience. But it isn't always easy to know how to get them involved safely. Follow these tips for fun in the kitchen with your kids.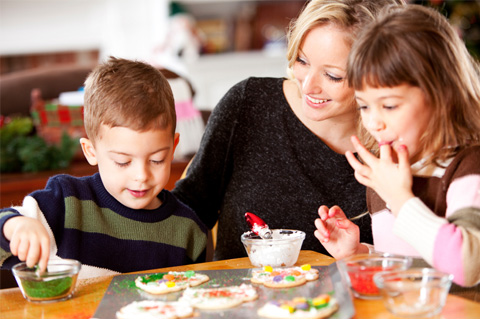 We all want to get our kids involved in holiday baking, but it's hard to know how to make that happen, especially if you have kids of multiple ages or maturity levels.
Add to that concerns about destroying your kitchen and, most importantly, safety — and a lot of moms just figure it's easier to do it themselves. Don't make your little ones miss out on one of the best memories they can make. Just use simple ideas to make sure everyone has tons of fun!
Safety first
When you're looking to get kids involved in baking, the first thing to remember is safety. Young kids shouldn't use knives (and even older children should be supervised and taught the proper way to use them).
Designate one work area for the kids and make sure they understand why they need to stay there. They should be provided with all the tools they need at that table. If they feel they need something else, they should ask. They should also be given seats that allow them to reach the work area and all the tools easily so there's no need to stand on chairs to get what they want.
Choose your recipes wisely
Kids get easily frustrated if things go wrong. The best way to avoid that is to bring them in on recipes you're very familiar with. That makes it easier for you to assign tasks efficiently and pay more attention to your kids (and how much fun they're having) rather than checking the recipe several times.
Getting kids involved also doesn't mean they have to help you with the whole recipe. Choose small tasks the kids can help with and leave the big stuff for you to handle during their afternoon nap. They can always help you finish with any decorating after they wake up.
Assign tasks by age
Don't feel the need to let every child do the same tasks. Small children can sort multi-colored candies by colors while an older child measures out ingredients. The key is to make sure each job is (or sounds) equally important.
When allowing children to measure ingredients, give them several bowls to place their measured ingredients into. That way, if they mess up, they can start over.
Divide and conquer
If you have two children, it's easy for feelings to get hurt if they both want to do the same job. Pre-measure your ingredients so you can allow each kid to pour half into the mixing bowl. Older children could also be responsible for measuring or mixing while younger children get to add ingredients to the bowl.
During the downtime
The most frustrating part of baking (whether you're 3 or 33) is waiting for the baking and setting. During the time you're waiting, you may want to have other activities planned to hold their attention.
Cleaning is part of cooking, so kids of all ages should be taught to clean while they wait for the food. Smaller kids who can't reach the sink can still dry small, easy-to-hold utensils after they've been washed. You can also give them other cleaning tasks that are easy for them to do, like wiping down the bottom of the fridge or polishing the cabinets.
If that doesn't take up enough time, give them blank paper and crayons in the same colors you'll be using to decorate. Ask them to come up with some fun decoration ideas for the cookies or cakes you'll be decorating later.
Make cleanup a breeze
If you're making cookies or cupcakes, you probably plan to let the kids decorate a few of their own. If possible, decorating should be done over a hard-surfaced floor that's easy to sweep up. Layer the surface of the table or cabinet with old newspapers or trash bags so you can wrap up the mess when they're done.
Additionally, each child should decorate on a rimmed tray or baking sheet. That way, any spills go onto the tray and not onto the table or floor.
More ways to cook with kids
No-bake peanut butter bars
Whole-wheat cinnamon-sugar donut hole recipe
Peanut butter and jelly French toast recipe