Lox bagel with herbed cream cheese
Lox bagels can be made at home with even more flavor than a bagel shop and at a fraction of the cost! Homemade herbed cream cheese make these breakfast staples extra special.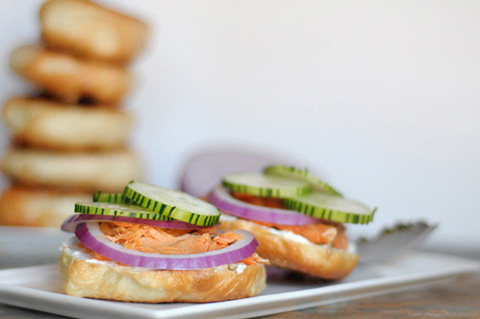 Homemade lox bagels
Makes 6 bagels
Ingredients:
4 cups flour
1 teaspoon salt
1 tablespoon olive oil
1-1/2 tablespoons honey
1 packet (1/4 ounce) active dry yeast
1 pound store-bought lox (cured salmon filet)
1 small English cucumber
1 small red onion, sliced very thinly
3 tablespoons capers (optional)
8 ounces cream cheese, at room temperature
1 teaspoon minced garlic
1 tablespoon chopped parsley
1 tablespoon chopped basil
1 tablespoon chopped dill
Directions:
To make the bagels combine the honey, yeast and water in the bottom of a stand mixer with a dough-hook attachment.
Stir lightly to combine and let it sit for 5 minutes until foamy.
Turn the mixer on low and slowly add in 2 cups of flour.
Slowly add a little more flour until a very stiff dough forms. Turn the dough out onto a lightly floured surface.
Knead until a smooth dough forms, about 3-5 minutes.
Spray a large bowl with nonstick spray and place the dough in the bottom.
Cover with a damp towel and let sit for 1 hour to rise.
Turn the dough out onto a floured surface again and cut into 6 even pieces.
Roll each piece into a smooth ball, then make a hole in the center using your finger.
Working the dough around the hole make the hole bigger, then set on a baking sheet covered with parchment to set for 20 minutes.
Meanwhile bring a large pot of water to boil with 1 tablespoon of sugar.
Brush a baking sheet with the olive oil.
When the water is at a rolling boil, gently place 2 bagels in the water and let them boil for 30 seconds per side.
Place on the prepared baking sheet.
Bake at 400 degrees F for 5 minutes, then turn over and allow to bake another 20-30 minutes until golden brown.
Set aside to cool.
To make the cream cheese stir together the cream cheese, garlic, parsley, basil and dill until all of the herbs are well combined.
Let sit in the refrigerator for about 30 minutes to allow the flavors to combine.
To put together the bagels, gently slice each bagel in half.
Spread each half with the herbed cream cheese.
Top with 1-2 slices of the lox, 1-2 slices of the English cucumber, 1-2 slices of the red onion and capers, if desired.
Other delicious bagel recipes
Ham and cheese bagel sandwiches
Bagel chips recipe
Peanut butter, chocolate and banana bagel