Melted snowman cookies
Looking for a unique and inspiring cookie recipe for your kid's school party or your Christmas Eve soiree? Look no further than this adorable recipe for melted snowman cookies! Made with just a few ingredients, these almost too cute to eat cookies will be the hit of your party!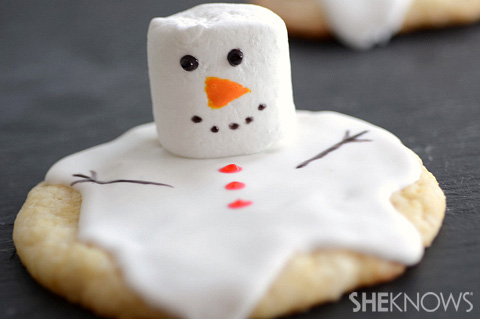 Aren't these just the cutest cookies you've ever seen? With a marshmallow head, candy buttons and icing gel eyes, these cookies are 100 percent edible (and 100 percent fun to make)! These are cookies your kids will actually want to help you make.
Melted snowmen cookies
Yields about 12 cookies
Recipe adapted from Truly Custom Cakery

Ingredients: 
5 tablespoons soft butter
3/4 cup white sugar
1 egg
1 teaspoon vanilla extract (you can also use almond)
1-2/3 cups flour
1 teaspoon baking powder
1/4 teaspoon salt
White cookie icing
Large marshmallows
Black icing gel
Mini candies
Directions: 
In a large bowl, mix together the butter and sugar with an electric mixer until creamy. Add in the egg, vanilla, flour and baking powder and salt until the mixture resembles coarse dough. Using your hands, form a disc and cover it with plastic wrap. Chill for at least an hour.
Once the dough has chilled, roll it out on a lightly floured surface with a rolling pin. Cut out circles using a circle cookie cutter. Place each cookie onto a nonstick cookie sheet and bake for 8 minutes, or until golden. Remove from the pan and place on a wire cooling rack. Do not decorate until fully cooled.
Using the white cookie icing, create a melted outline (not filling the entire cookie) and fill in with the icing. Place a marshmallow on the top of each cookie on the icing so it sticks. Lightly press it down so it looks a little smashed.
To decorate, use your black icing gel to make two eyes and a mouth. Make a nose with orange icing gel. Decorate the buttons by using small circular candies, colored icing or mini chocolate chips. Let dry completely and then enjoy!
More fun holiday cookie recipes
Christmas cookie recipes & tips
Tradition worthy Christmas recipes
Easy cookie decorating without baking