Cranberry and white-chocolate cookies recipe
Fans of white-chocolate macadamia nut cookies will love this seasonal spin on their favorite cookie. Cranberries and white chocolate are the perfect finish to any meal.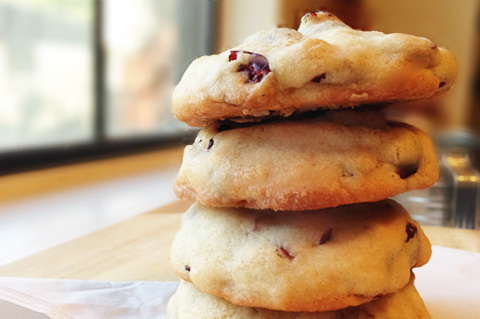 These tart and sweet cookies are the perfect treat to satisfy your sweet tooth with flavors of the season. The best part is, they're even better the next day when the flavors have melded, so it's the perfect make-ahead dessert.
Cranberry and white-chocolate cookies recipe
Yields 16 - 18
Ingredients:
1/2 cup butter, softened
3/4 cup of sugar
1 teaspoon vanilla extract
1/8 teaspoon baking powder
1/2 teaspoon salt
1 large egg, plus 1 egg white
1-1/2 cups all-purpose flour
1 (5 ounce) package dried cranberries
1/2 cup white chocolate, cut into bite-sized chunks (or white chocolate chips) 
Directions:
Preheat the oven to 425 degrees F.
In a mixing bowl or using a stand mixer, cream together the butter, sugar, vanilla, baking powder and salt. The mixture may be crumbly.
Add the whole egg and egg white and beat to combine.
Add in the flour and combine.
Mix in the cranberries and chocolate chunks.
Spoon the mixture onto two parchment-lined baking sheets in 1-inch balls, squishing the balls down as you go and leaving about 2 inches between each cookie.
Bake them for 12 to 15 minutes or until the edges of the cookies just turn brown. They'll appear as if they're barely set, but they'll harden as they cool, so over-baking will result in hard cookies.
More holiday cookie recipes
Pecan pinwheel cookies
Spiked peppermint mocha whoopie pies
Easy Christmas cookie recipes