No-bake, mini cherry cheesecakes
With all of the stresses that come with the holiday baking season, it's a surprise any of us make it out alive. This year, skip the stress and give your oven a break by making these mini, no-bake cherry cheesecakes for your holiday parties. They are as decadent, moist and fluffy as regular cheesecake, with no oven required!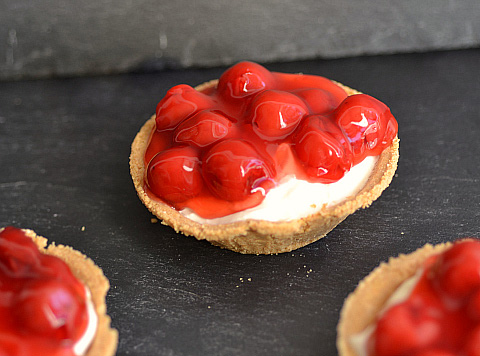 Made with just a handful of ingredients, these no-bake cheesecakes aren't just delicious, they are easy! Plus, serving them up in mini crusts make them easy to eat for little hands. Finally, a stress-free dessert you and your kids will love!
No-bake mini cherry cheesecakes
Yields 6 cheesecakes
Ingredients:
For the crust: 
1-1/4 cups graham cracker crumbs
1/4 cup butter
1/4 cup sugar
For the filling: 
8 ounces cream cheese
1 cup powdered sugar
1 teaspoon vanilla
1 cup heavy cream
For the topping: 
Directions:
Mix together the graham cracker crumbs, margarine, and sugar in a large bowl until mixed. Press the mixture into six small pie plates, pressing the graham crackers all the way up the sides of each.
In another bowl, beat the cream cheese, vanilla and sugar together with a handheld mixer. Gradually add heavy cream, about 1/4 cup at a time, until fully incorporated. Scoop about 3 tablespoons of mix into each pie crust. Add cherry pie filling to the top.
Chill the cheesecakes for at least 3 hours and then serve!
More bite-size dessert recipes
Thanksgiving pie pops
Salted caramel cream puff recipe
3 Coconut infused dessert recipes