Bye week peanut butter popcorn
Give Dad a sweet treat to help him deal with his favorite team's bye week. This delicious snack, sweetened with brown sugar, will make his day (and yours) a little brighter. The kids will love it, too!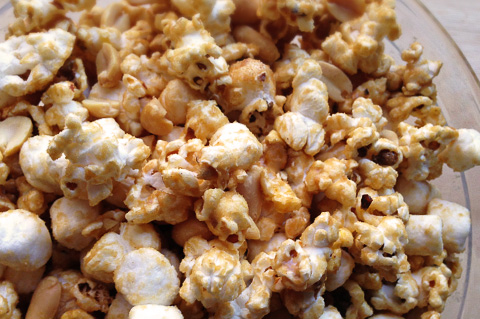 This easy recipe for peanut butter popcorn snack mix is so easy, you'll wonder why you've been buying the (expensive) boxed versions all these years. It uses a bag of microwave popcorn and everyone's favorite nut spread to sweeten the bowl.
Bye week peanut butter popcorn recipe
Serves 6 - 8
Ingredients:
1 (3.5 ounce) package microwave popcorn, popped according to package directions
1/4 cup butter or margarine
1/4 cup plus 2 tablespoons light brown sugar
1/8 cup peanut butter
1 cup miniature marshmallows
1/2 cup salted peanuts
Directions:
Pour the popcorn into a large bowl. Pick out as many un-popped kernels as possible.
Add the peanuts and marshmallows to the popcorn, mix to combine and set aside.
To a small bowl, add the butter, peanut butter and brown sugar and microwave at 30-second intervals (stirring between sessions) until soft and well combined.
Toss the heated sauce into the popcorn mixture until well coated.
More snack recipes
5 Easy game day snacks
Healthy after-school snacks
7 Healthy snacks the whole family will love