Grilled apple jam, cheddar and bacon panini
Apple jam, sharp cheddar and smokey bacon come together to make one delicious, grilled panini sandwich.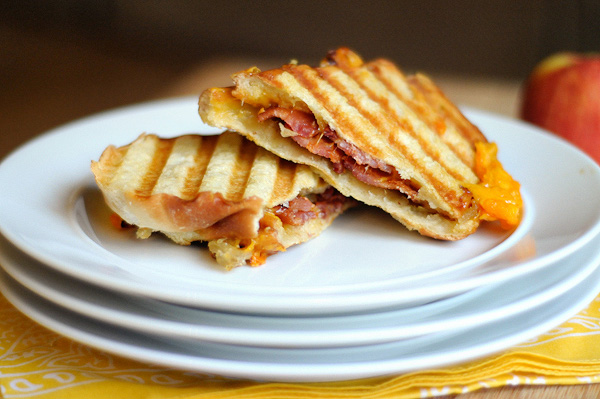 Grilled, apple, cheddar and bacon panini
Makes 4 sandwiches
Ingredients:
8 slices thick-cut Italian bread
3 Granny Smith apples
1 cup sugar
1 cinnamon stick
8 slices thick-cut bacon
1/2 pound sharp cheddar cheese, shredded
4 tablespoons butter
Directions:
Wash, peel and core the apples.
Grate the apples into a large microwavable bowl using a box grater and stir in the sugar.
Cover the bowl with plastic wrap and microwave on high for 5 minutes.
Add the softened apples and sugar to a food processor and pulse until smooth.
Return to the microwavable bowl, add the cinnamon stick, and microwave for another 5 minutes, stirring halfway through.
Set aside and let cool to thicken.
While the jam is cooling cook the bacon in a large skillet over medium heat until crispy.
Set on a paper towel to drain.
To assemble the sandwiches spread 1-2 tablespoons of apple jam on one slice of bread.
Cut the bacon into half and place four halves (two slices of bacon) on top of the jam.
Cover the bacon with 2 ounces of shredded cheese and top with the other slice of bread.
Once all of the sandwiches are assembled spread the outside of each sandwich with butter.
Grill on a grill pan over medium heat until grill marks form, the bread turns golden brown and the cheese is melted.
Serve hot.
More delicious panini sandwiches
Pear and Gruyere panini with tart cherry preserves
Avocado, mozzarella and sun-dried panini
Brie and smoked turkey panini