Easy mini turkey pot pies
It's a few days after Thanksgiving, the last thing you probably want to eat is turkey. However, you can't let all that poultry go to waste, right? Instead of forcing your family to eat another turkey sandwich, why not whip up a cute and comforting entree like turkey pot pies? These mini pies are the perfect winter warming meal and will kill off the rest of that bird!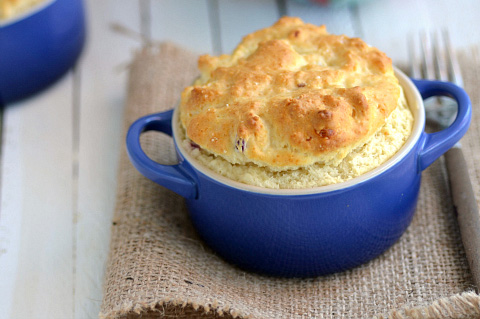 Not only is this the ultimate comfort food recipe, it's served up in bite-size ramekins for easy eating. Now, each member of your family (especially those with little hands) gets their own little pot pie to enjoy!
Mini turkey pot pies
Serves 6
Recipe adapted from Betty Crocker

Ingredients: 
1 cup chopped turkey
1/2 cup chopped carrots
1/2 cup chopped celery
1/4 cup chopped onion
1/4 cup chopped mushrooms
1 can (12 ounces) cream of mushroom soup
1 cup Bisquick (or biscuit mix)
2 eggs
5/8 cup light cream
Dash of pepper
Directions:
Preheat your oven to 350 degrees F. Lightly grease six ramekins with nonstick cooking spray. In a large bowl, mix together the vegetables, turkey, cream of mushroom and salt and pepper. Scoop mixture evenly into the six ramekins, filling about 3/4 of the way full.
In another bowl, mix together the biscuit mix, egg and light cream. Mixture will be slightly lumpy. Scoop the mixture evenly over each ramekin so the biscuit mix covers the vegetable and meat filling.
Place ramekin in a deep baking dish and bake for about 30 - 35 minutes, or until the topping is golden brown.
More Thanksgiving leftover recipes
Creative uses for Thanksgiving leftovers
Leftover turkey and wild rice soup
Turkey amatriciana