A chef's spin on Thanksgiving leftovers
Breathe new life into your Thanksgiving leftovers with these restaurant-quality recipes from Salt Creek Grille Princeton's Executive Chef Fabian Quiros. These family-friendly dishes are way more exciting than your average leftover turkey sandwich.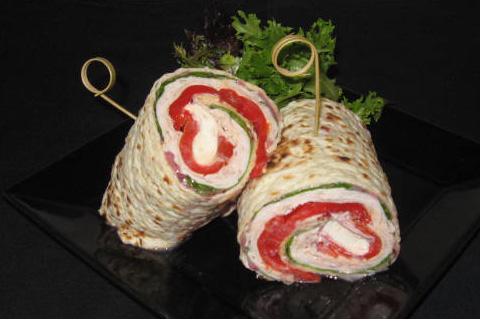 Let Thanksgiving be the meal that keeps on giving with these creative uses for leftovers that will feed your family all week long. From a gourmet wrap with cranberry aioli to Southwestern and Mexican inspired soup and tacos, you won't even feel like you're eating leftovers.
Chef Quiros doesn't treat leftovers like a burden. Instead, they're the springboard for a number of exciting meals. Mix extra cranberry sauce with mayonnaise, mustard and a drop of orange juice for a gourmet condiment with a zing. Or put those remaining veggies to good use in a spicy Southwestern turkey soup with all the fixings. Your family will be begging you to make these dishes all year round.
Turkey flatbread pinwheels with cranberry aioli
Serves 4
Ingredients:
4 sun-dried tomato flat breads or tortillas
5 ounces cranberry aioli (recipe below)
3 cups fresh baby spinach
4 ounces roasted red peppers, drained
4 strips cooked bacon
4 pieces thinly-sliced turkey breast from leftovers
4 slices burrata cheese (substitute fresh mozzarella)
Directions: 
Spread the aioli across each piece of flatbread.
Evenly distribute the spinach, roasted red peppers, bacon, turkey and burrata amongst the four flatbreads.
Roll up tightly. Slice into 1-inch pinwheels and serve.
Cranberry aioli
Ingredients:
1/2 cup left over cranberry sauce
1/2 cup mayonnaise
1 teaspoon Dijon mustard
1/2 teaspoon orange juice
Directions: 
Mix the cranberry sauce, mayonnaise, mustard and orange juice in a small bowl.
Use immediately, or cover and refrigerate until needed.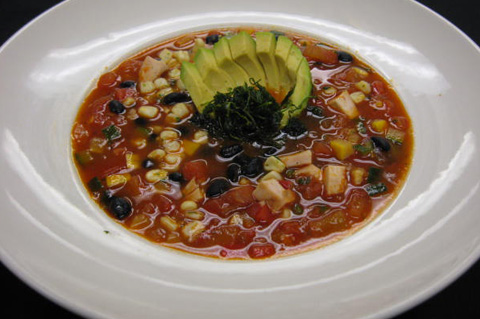 Southwestern turkey soup
Serves 4
Ingredients:
1 pound leftover turkey, cut into 1-inch pieces
1 cup chopped onion
1 cup leftover vegetables from Thanksgiving dinner
1 jalapeño pepper, seeded and minced
2 garlic cloves, minced
1 teaspoon chili powder
1 teaspoon ground cumin
1/2 teaspoon salt
1/4 teaspoon freshly ground black pepper
5 cups reduced-sodium chicken broth
1 (14 ounce) can diced tomatoes
1 (14 ounce) can kidney beans, rinsed and drained
1/4 cup of leftover corn
1 cup diced fresh avocado, for garnish
2 tablespoons chopped fresh cilantro leaves, for garnish
Lime wedges, for garnish
Directions: 
Combine the turkey, onion, vegetables, jalapeño, garlic, chili powder, cumin, salt and ground black pepper in a large pot.
Stir and add the chicken broth, tomatoes, corn and beans.
Cover and cook over low heat for 1 hour.
When ready to serve, ladle the soup into bowls and top with avocado and cilantro. Serve with lime wedges.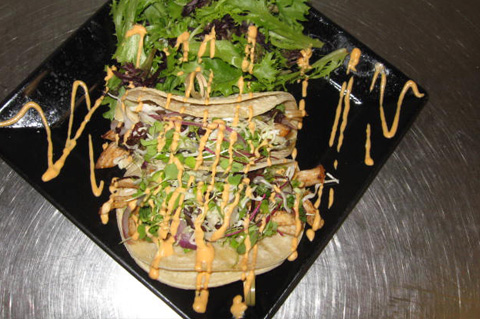 Turkey tacos with chipotle sour cream and fiesta slaw
Serves 4
Ingredients:
1/2 pound leftover turkey, roughly shredded in large pieces
Juice of 1 lime
1 tablespoon ancho chili powder
1 tablespoon paprika
1 jalapeño, seeded and coarsely chopped
1/4 cup chopped cilantro , plus more for garnish
Fiesta cabbage slaw (recipe below)
Chipotle sour cream (recipe below)
8 flour tortillas
Directions: 
Put the turkey, lime juice, chili powder, paprika and jalapeño in a large bowl and toss to mix well.
Evenly distribute the turkey mixture (about 4 ounces each) down the center of each tortilla, serving two per person.
Top with fiesta cabbage slaw and a spoonful of chipotle sour cream. Garnish with cilantro.
Fiesta cabbage slaw
Ingredients:
1/4 head red cabbage, finely shredded
1/4 head white cabbage, finely shredded
1 small red onion, halved and thinly sliced
1/4 cup rice wine vinegar
1/2 cup freshly squeezed orange juice
1/4 cup canola oil
1 tablespoon honey
1/4 cup chopped cilantro
Salt and freshly ground black pepper
2 tablespoons finely chopped fresh mint leaves
Directions: 
Put the red and white cabbage and onion in a large bowl.
In a smaller bowl, whisk together the vinegar, orange juice, oil and honey until thoroughly combined. Pour over the cabbage.
Add the cilantro and season with salt and pepper to taste. Toss so every piece of cabbage is coated.
Garnish with mint.
Let sit at room temperature for 20 minutes before serving.
Chipotle sour cream
Ingredients:
1 tablespoon finely minced chipotle pepper in adobo
2 ounces adobo sauce
8 ounces sour cream
2 tablespoons mayonnaise
Directions: 
Put the ingredients in a food processor and blend until combined and smooth.
Serve immediately or store, covered, in the refrigerator.
More good uses for Thanksgiving leftovers
Thanksgiving leftover casserole recipe
The classic turkey sandwich
Healthy, hearty Thanksgiving leftover recipes