Breakfast casserole egg puffs
Have a house full of guests? This is an easy recipe to feed a hungry crowd!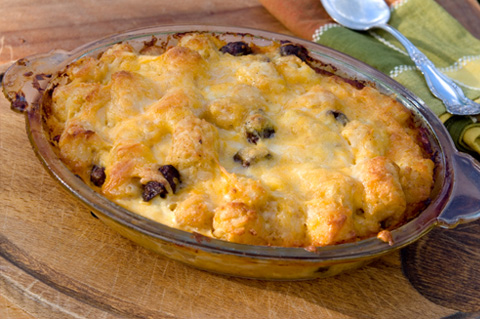 These are the perfect make-ahead breakfast item. If you have a house full of company, this will also feed a hungry crowd that might wake up at different times. This is also a great recipe for keeping you out of the drive thru, and something you can make ahead to heat just as you are leaving and eat it on the go for busy mornings. You can freeze these, then pop them in the microwave to reheat. Much healthier than fast food, but when you need food fast, this is the recipe for you.
Easy breakfast casserole egg puffs
Makes 12 egg puffs
Ingredients:
1 pound sausage or chorizo
2 cups baby spinach
12 eggs
1/2 cup plain soymilk or milk
2 tablespoons Greek yogurt
Salt and pepper to taste
Dash of hot sauce (optional)
1 cup grated cheese of your choice
Optional add ins: broccoli, bell pepper, mushrooms, shrimp or crabmeat
Directions:
Cook the sausage in a skillet and add the spinach at the end. Set aside and blot with paper towels so your egg puffs are not greasy.
Spray a muffin pan with cooking spray. Scoop the sausage-spinach mixture evenly into muffin pans.
In a large mixing bowl (preferably one with a pour spout) whisk the eggs, soymilk (or milk) Greek yogurt, salt and pepper and hot sauce together.
Pour over the sausage mixture, then top each with cheese.
Bake at 350 degrees F for 20 to 25 minutes.
Add-ins can be prepared ahead of time and freezed for busy mornings to reheat.
More breakfast casserole dishes to try
Christmas morning casserole recipe
Sausage breakfast casserole
Fast fix casseroles