Creamy stuffed mushrooms recipe
Thanksgiving and Christmas are just around the corner and football season is in full swing, which means plenty of opportunities to impress party guests. Try these creamy, cheese-stuffed mushrooms to kick your party off right.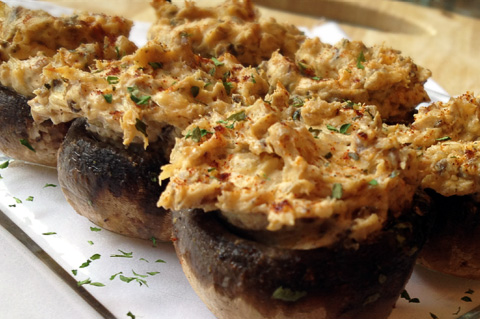 Stuffed mushrooms are a favorite appetizer at many restaurants around the country. They come in a variety of styles and sizes — and sometimes even come fried! But they're so easy to make, why wait to go out to dinner? These lower-fat cheesy stuffed mushrooms are sure to impress your guests without contributing too much to their winter weight.
Creamy stuffed mushrooms recipe
Serves 6 - 8
Ingredients:
24 -28 baby bella mushrooms
2 teaspoons olive oil
1 - 2 tablespoons plus 1 teaspoon butter
1/4 garlic powder
3 cloves garlic, minced
1/2 medium onion, minced
1 (8 ounce) box fat-free cream cheese, softened
1 (8 ounce) box Neufchatel, softened
1/2 cup grated Parmesan cheese
1/2 - 1 teaspoon ground cayenne pepper
Salt and pepper to taste
Directions:
Preheat the oven to 350 degrees F. Clean the mushrooms with a damp paper bowl (do not run them under water). Carefully break off the stems, leaving a bowl in the mushroom cap. Place the mushroom caps (bowl side down) on a cookie sheet. Set aside.
Mince the stems of the mushroom (discarding any tough ends if necessary).
In a large skillet, heat the oil and 1 teaspoon of the butter to medium. Add the minced onions and sauté until translucent.
Add the minced mushroom stems and cook, stirring frequently until all moisture has disappeared. Add the garlic and continue to sauté another 2 minutes. Set the mixture aside to allow it to cool.
When the mushroom mixture has cooled, mix it into the cream cheese and Neufchatel and stir in Parmesan and cayenne. Salt and pepper to taste.
Melt the remaining butter with garlic powder and a dash of salt and pepper in the microwave.
Brush the mushroom caps with the butter and flip them over.
Fill each mushroom cap generously with the mixture.
Bake the mushrooms for 20 to 30 minutes until the liquid begins to form under the caps.
More mushroom recipes
Avocado-stuffed marinated mushrooms
Savory ground turkey and mushroom rice recipe
Jack Daniel's mushroom sauce recipe