Snowman doughnut pops
Your kids will love piecing together this adorable snowman! Simple ingredients and simple assembly make them the perfect kid-friendly dessert craft for the holidays!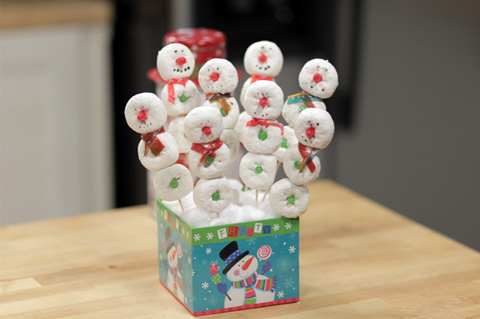 Snowman doughnut pops
Your kids will get a kick out of these adorable snowmen! They're so easy to make, you can enjoy them over and over again!
Ingredients:
1 package mini powdered sugar doughnuts
1 package miscellaneous colored gel candies
1 package fruit roll-ups or sour patch straws
Black icing or black food coloring
Wooden skewers
Clear plastic baggies
Ribbon
Directions:
Slide three doughnuts onto a wooden skewer.
Cut green candies in half and place in the holes of the two bottom doughnuts, to be used as buttons.
Place an orange candy in the hole of the top doughnut for the nose.
Wrap a sliver of fruit roll-up around the neck as a scarf.
Using a toothpick, dot black food coloring or black icing on the top doughnut in the shape of eyes and a smiley face.
Wrap each snowman individually to hand out as holiday snacks for the kids!
More holiday desserts
Brown butter cookies with salted caramel frosting
Orange muffins with orange glaze
Drunken apple spice muffins