How kids can help with Thanksgiving dinner
Holiday time is family time. Let your kids be involved with preparing, cooking and serving Thanksgiving dinner. From making placemats to washing veggies to setting the table, kids can pitch in at the holidays and enjoy bonding time with the family.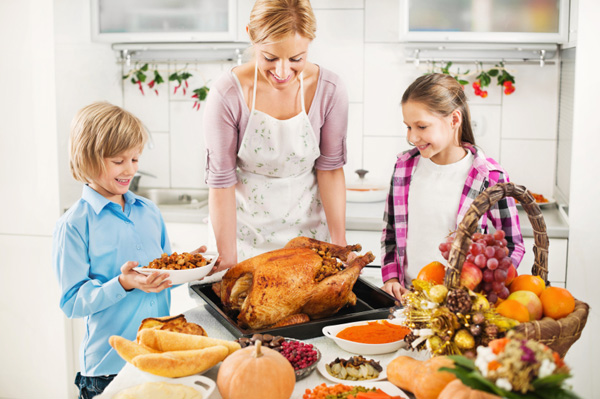 Preparing a Thanksgiving feast for a crowd is no small task. And when you have several bored children around, it can get even more difficult. This Thanksgiving get the kids involved with all aspects of Turkey Day, from food prep through cleanup, and make the day less stressful and more fun for everyone.
Shop together
Let your kids be involved with planning Thanksgiving dinner from the get-go by taking them to the store with you to shop for the turkey and everything else you need for the meal. Shopping time can be a learning experience too. Depending on the age of your kids, you can talk about comparing prices, reading food labels, picking out produce and more.
Make placemats or centerpieces
Leading up to Turkey Day, get crafty with your kids and make placemats or centerpieces to decorate your Thanksgiving table. Placemats can simply be made out of construction paper that you can toss out after the meal, or kids can make a collage of photos of the family glued to the paper — and then you can have them laminated. For a centerpiece, a traditional cornucopia is easy or you can use fall leaves, flowers, candles or just about anything else to put together a pretty table display.
Delegate age-appropriate food prep
On Thanksgiving Day, kids can help with food prep. Even toddlers can do things like washing vegetables and tearing lettuce for salad. Kids have fun doing things like mashing potatoes and rolling out pie crusts. Teens who know about kitchen safety can help with chopping, mixing and cooking. Everyone can pitch in to set the table. This is a good time to talk about table etiquette, the proper placement of silverware and the like. Tweens and teens can even help with taking drink orders and filling glasses.
Make cleanup easy
None of us like to clean up all the dishes and cookware after a big holiday meal, but you can make things easier with a little preparation. Assign one child to clear the dishes from the table, while another rinses them and loads them into the dishwasher. Older kids can package leftovers for your guest, take out the garbage or help wash pots and pans. If everyone does their part, the kitchen and dining room can be clean in a flash.
More about Thanksgiving
Last-minute Thanksgiving appetizers
Rave-worthy Thanksgiving salad recipes
Thanksgiving for a small family