Kid-friendly Thanksgiving menu
Please your little guests on Thanksgiving with these kid-friendly recipes and preparation ideas.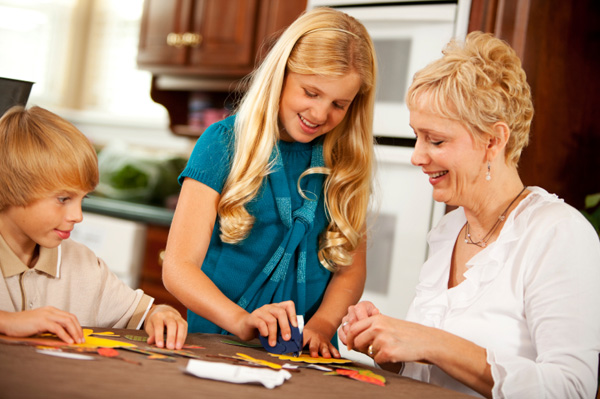 Holidays are fun for families, but sometimes the youngest guests can become overwhelmed. Too many unfamiliar foods and unfamiliar faces at the Thanksgiving table can be frustrating for some wee ones. If your young kids get fussy while waiting for Thanksgiving dinner to be served and then turn up their nose at what's on the table, try something a little different this year.
Keep them entertained
While adults watch football and mingle with family and friends that they are visiting from out of town, young kids can get bored. Be sure to have plenty for kids to do. Even if you don't have a designated playroom, you can set up an area or a nook where they can play games, do puzzles, color in coloring books and play with Play-Doh. Also consider setting up a craft table where they can make Thanksgiving decorations or placemats for the table. Encourage young kids to get involved in the kitchen as well. Though they might be too young to baste the turkey, that doesn't mean they can't participate in food prep. They can tear lettuce for salad, stir batters, help set the table and more. Make them feel like a big part of the day.
Let them snack
If your kids don't like turkey, yams and all the Thanksgiving fixin's, that's okay. It's just one day out of the year — let them snack. They don't have to chow down on cookies and chips all day. You can set out trays of crunchy veggies, chopped fruits and pita wedges for dipping in everything from Ranch dressing to hummus to honey. Kids love to dip!
Make it mini
When it comes to sitting down to dinner, kids don't have to eat the same thing as you are serving the adults. Instead of roasted turkey — serve them turkey nuggets, turkey hot dogs or even ravioli stuffed with ground turkey.
These cute cornucopias of veggies are also a big hit among kids. If your children aren't into traditional sweet potatoes, try baked sweet potato fries instead.
For dessert, try mini apple sour cream pies, pumpkin pie bites or pumpkin chocolate chip cookies. Making mini desserts cuts down on their sugar intake, while still providing your kids with a special treat.
More about Thanksgiving
Last-minute Thanksgiving appetizers
Rave-worthy Thanksgiving salad recipes
Thanksgiving for a small family