Southern-style vegetarian stuffing recipe
The perfect side for tofurkey and turkey alike, this authentic Southern-style cornbread stuffing is special enough for Thanksgiving and easy enough for a weeknight meal.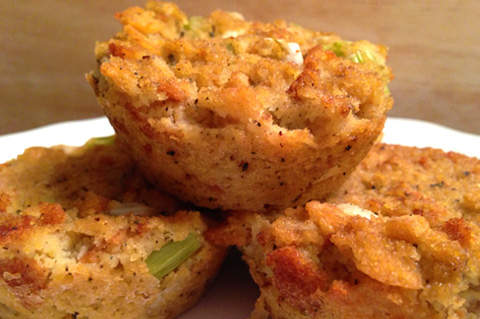 Whether you're a vegetarian or just hosting a Thanksgiving or Christmas dinner with herbivore guests, this vegan Southern-style cornbread stuffing will keep them coming back for seconds.
Southern-style vegetarian stuffing recipe
Serves 6
Ingredients:
1 recipe vegan cornbread cooked in an 8-inch cast-iron skillet
1/2 cup celery, chopped rough
1/2 cup onion, chopped rough
2-1/2 cups vegetable stock or bullion
1 teaspoon poultry seasoning
1/2 teaspoon sage
1/2 teaspoon pepper (plus more to taste)
Salt to taste
Directions:
Preheat the oven to 350 degrees F.
Crumble the cornbread. It's OK if a few pieces are the size of peas, but most should be grain-sized.
In a large mixing bowl (or in the casserole dish you plan to use), mix the cornbread, celery, onion, stock and seasonings. The mixture will be slightly soupy.
Pour the mixture into a greased (with vegetable oil) baking dish. You can use an 8 x 8-inch casserole dish, an 8-inch cast-iron skillet or a 12-cup muffin tin (for individual servings).
Bake for 50 to 60 minutes or until golden and fluffy.
Recipe notes:
Cooking the cornbread you'll use for the recipe in a cast-iron skillet ensures it's browned well on the bottom and sides, too. If you like drier stuffing, make the cornbread a few days ahead of time.
If you're using a muffin tin, you can fill the cups fairly full, as stuffing doesn't rise.
For denser cornbread, use extra vegetable stock (the mixture will be very soupy) and bake it for 1 to 1-1/2 hours.
More vegan Thanksgiving dishes
Pear and cranberry green salad
Vegan pumpkin pie cheesecake
Vegan Thanksgiving gravy