Sweet potato cupcakes recipe
Everyone loves sweet potatoes with roasted marshmallows on Thanksgiving. Why not transform this favorite side dish into a delicious dessert? If you are looking for the perfect dessert to take on-the-go this Thanksgiving, these sweet potato cupcakes are the perfect recipe.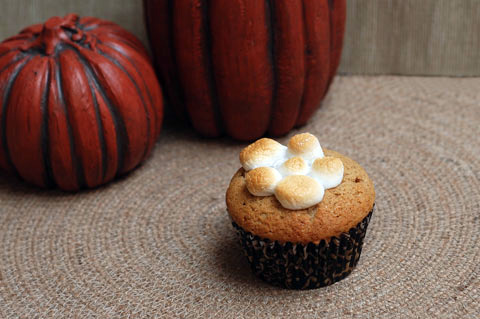 Sweet potato cupcakes recipe
Makes 24 cupcakes
Ingredients:
1 cup butter, softened
1-1/2 cups sugar
3 eggs
1 (15 ounce) can of sweet potatoes, drained
1 teaspoon vanilla
2 cups flour
2 teaspoons baking powder
1 teaspoon baking soda
1/2 teaspoon salt
1 teaspoon cinnamon
1 cup mini marshmallows
Directions:
Preheat the oven to 350 degrees F.
In a large bowl, use an electric mixer to cream together the butter and sugar.
Add in the eggs, drained sweet potatoes and vanilla and mix until all of the ingredients are well combined.
In a separate bowl, mix together the flour, baking powder, baking soda, salt and cinnamon.
Slowly add the flour mixture to the sweet potato mixture, mixing until a thick batter is formed.
Line a muffin pan with 24 baking cups. Pour the batter into the baking cups until each cup is approximately 2/3 full.
Bake in the oven for 18-20 minutes until a fork inserted in the center of the cupcake comes out clean.
Remove the cupcakes from the oven and allow them to cool for 10 minutes.
Set your oven to broil on the low setting.
Pile 5 or 6 mini marshmallows on the top of each cupcake. (Hint: If you dip the bottom of the marshmallow in water it will help it to stay in place.)
Put your marshmallow-topped cupcakes under the broiler on low, and broil until the marshmallows are lightly golden.
Remove the cupcakes from the oven, allow them to cool, then serve.
More Thanksgiving recipes
3 Sweet potato casseroles
The perfect apple pie
Healthy, hearty Thanksgiving leftover recipes