Homemade apple spice bagels
Tired of spending five plus dollars on a bag of so-so bagels from your supermarket? Instead of buying them, why not make them instead? These luscious homemade cinnamon apple bagels are moist, fluffy and filled with cinnamon apple flavor. Serve them with your kid's favorite toppings, like apple butter or cream cheese, for a breakfast everyone will love!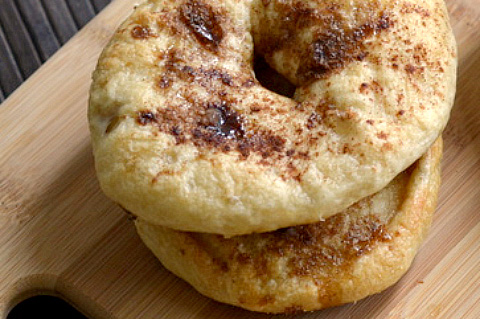 The use of fresh chunk apples make these the perfect addition to your busy fall mornings. Pair these with rich apple butter or cinnamon cream cheese for an easy, healthy, kid-friendly breakfast!
Apple spice bagels
Yields about 6 regular bagels (or 12 mini)
Recipe adapted from My Little Celebration
Ingredients:
1 cup warm water, 110 degrees F
1 (1/4 ounce) packets active dry yeast
1-1/2 tablespoons granulated sugar, plus 1 tablespoon
3 cups all-purpose flour
Dash of salt
1/2 tablespoon butter
1-1/2 Granny Smith apples, chopped
1 teaspoon pumpkin pie spice
About 3-1/2 tablespoons brown sugar
Directions: 
In a medium skillet over medium high heat, heat the butter. Add the apples, pumpkin pie spice and 2 tablespoons of brown sugar. Reduce heat to low and cook until soft, about 10 minutes. Set aside.
In a large bowl, mix together the water, yeast, sugar and salt. Stir and let sit until foamy, about 5 minutes. Add 1 cup of flour, the apples and 1/4 cup of sugar. Gradually add the remaining flour until dough forms.
On a lightly floured surface, knead the dough until elastic, about 10 minutes. Add the additional flour if the dough is still sticky.
Grease a large bowl with nonstick cooking spray and place the dough inside. Cover and let rise for about an hour. Remove the dough from the bowl and punch down. Divide the dough into 6 pieces. If you want to make them smaller, divide that dough in half. Roll the dough into balls and poke them in the middle with your finger creating a small hole. Place on a baking sheet and cover with a clean cloth until the dough has risen again (about 30 more minutes).
Preheat your oven to 400 degrees F. Bring a large pot of water to a boil with salt. Carefully drop the mini bagels into the water, one at a time, for about 1 minute, flipping at 30 seconds. Remove the bagels from the water and place them on a greased baking sheet.
Bake the bagels for 5 minutes, and then flip over. Sprinkle the tops with cinnamon and then bake another 15 - 20 minutes, or until golden brown.
More homemade bread recipes
Steamed pumpkin bread recipe
Savory bread pudding recipe
Irish soda bread recipe two ways