Apple nachos recipe
Turn nachos into a healthy afternoon snack you can feel good about with apple nachos!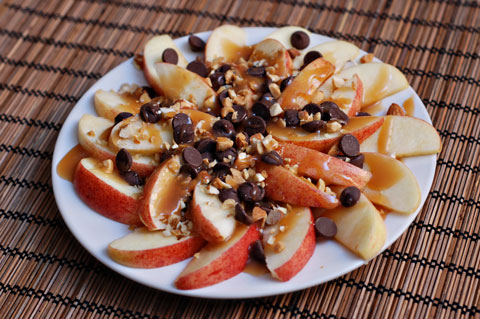 An apple a day can get boring after a while. Liven up this favorite fruit with exciting toppings like chocolate chips, nuts and caramel sauce!
Apple nachos recipe
Serves 4
Ingredients:
2 medium apples
1 handful of chocolate chips
1 handful of chopped nuts
3-4 tablespoons of caramel
Directions:
Core and thinly slice the apples and arrange them in a circular pattern on a plate.
Sprinkle chopped nuts and chocolate chips on top of the apple slices.
Warm the caramel sauce in the microwave for 20-30 seconds, then drizzle the caramel sauce over the apples. Serve immediately.
More snack recipes
10 Healthy vegetarian snacks
Homemade pretzels and dip recipe
Tropical snack mix recipe