Easy spiced pecan pie recipe
Skip the store-bought pecan pie and put the spice back in your Thanksgiving dessert with this deceptively easy pecan pie. This delicious pastry has a kick of fall spice your guests won't be able to resist.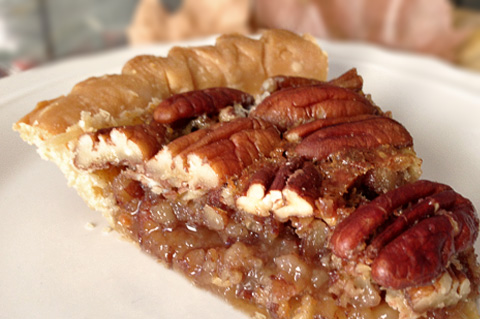 Pecan pies are a Thanksgiving tradition, but many of us go for store-bought, thinking they're difficult to make. But with the right recipe, they're actually very easy! Try this spiced-up version that takes only minutes of prep time!
Easy spiced pecan pie recipe
Yields 1 pie
Ingredients:
3 eggs, slightly beaten
1 cup sugar
1/2 cup corn syrup
3 tablespoons butter, softened and chopped
1 teaspoon vanilla
1 cup pecans, chopped, plus 20 - 30 pecan halves
1/8 teaspoon clove
1/8 teaspoon cinnamon
1 recipe pie crust (or frozen regular 9-inch pie crust)
Directions:
Make the pie crust according to your favorite recipe (do not bake) and preheat the oven to 450 degrees F.
Line the bottom of the pie crust with the chopped pecans (reserve the whole pecans).
Scatter the chopped butter on top of the pecans (they'll melt in the oven).
In a medium bowl, stir (do not beat) together the eggs, sugar, corn syrup, vanilla, clove and cinnamon. They only need to be just combined. (Stirring the mixture too much will create air bubbles.)
Pour the mixture over the pecans and butter (the pecans will begin to float in the oven).
Top the pie with the pecan halves in an attractive design. We like to use concentric circles, but you can do any pattern you like.
Bake the pie for 10 minutes, then reduce the heat to 350 degrees F for half an hour. If the pie crust starts to get too dark, cover the pie loosely with aluminum foil.
More pie recipes
Simple s'mores pie recipe
Bacon apple pie recipe
Upside down Southern apple pie recipe