3 Kid-friendly Thanksgiving dishes
If you think feeding your kids on a random weekday is hard, try Thanksgiving! All of the vegetables, sauces and unique side dishes often leave your picky eaters with their noses in the air. Instead of making them a whole new meal, why not whip up these kid (and adult) approved side dishes? Using kid-friendly ingredients like cheese and sausage, you'll easily win over even your harshest of critics!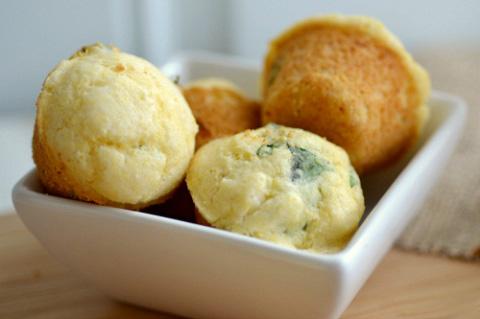 These mini basil cheddar cornbread muffins, savory sausage stuffing and twice-baked mashed potatoes will instantly become favorites at the kids' table (and adults' table) this Thanksgiving. By pairing ingredients they wouldn't normally eat (like healthy vegetables and herbs) with things they love (like cheese, butter and sausage) you can easily trick them into trying new foods!
Mini basil cornbread muffins
Yields about 24
Ingredients:
1 cup yellow cornmeal
1 cup all-purpose flour
1 teaspoon baking powder
1/2 teaspoon baking soda
Dash of salt
1 tablespoon fresh rosemary, chopped
1 large egg
1 egg white
2/3 cup buttermilk
4 tablespoons sugar
1/4 cup unsweetened applesauce
1/3 cup olive oil
1/2 cup Parmesan cheese
Directions: 
Preheat your oven to 375 degrees F. Grease a mini muffin pan with nonstick cooking spray or lined with paper liners.
In a medium bowl, mix the cornmeal, flour, baking powder, baking soda and salt together until fully mixed. Add in the basil and stir.
In another bowl, add the eggs, milk, applesauce, sugar and oil. Using a hand electric mixer beat on low until the mixture is fully combined and the sugar has dissolved. Slowly add the flour mixture to the wet mixture, beating between each addition.
Using a wooden spoon, gently stir in the cheese. Pour the batter into the greased muffin cavities about 2/3 the way full.
Bake the muffins for 15 – 20 minutes, or until golden brown and a toothpick inserted comes out clean.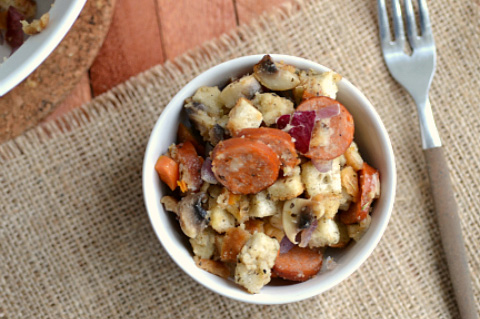 Savory sausage stuffing
Yields about 4 cups
Ingredients: 
3 cups of store-bought stuffing mix
2 tablespoons butter
1/2 cup chopped carrots and celery
1/4 cup chopped onions
1/4 cup chopped mushrooms
2 chicken sausages, sliced
1-1/2 cups chicken broth
Salt and pepper to taste
Directions:
In a large 3-quart pan, heat the butter. Add the onions and cook until fragrant, about 2 minutes. Add in the carrots, celery, sausage and mushrooms and cook another 4 minutes, or until soft. Add the broth and bring the mixture to a boil. Once boiling, add the stuffing mix.
Reduce the heat to low and cook for about 5 minutes, or until the bread is moistened. Season with salt and pepper.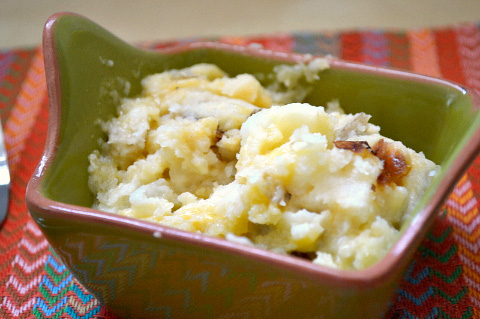 Twice-baked mashed potatoes
Serves about 6
Ingredients:
6 russet potatoes
1 tablespoon olive oil
1 teaspoon sea salt
1/2 cup butter
1/2 cup sour cream
1/2 cup milk
1 tablespoon sea salt
1/2 tablespoon ground black pepper
1 cup cheddar cheese
1 teaspoon parsley
For the directions on how to make these, check out the recipe here on SheKnows >>
More kid-friendly holiday dishes
Holiday rolls and pinwheels
8 Recipes you can make with the kids
Kid-friendly New Year's Eve party