Celebrate National Doughnut Day with this easy recipe
Take 1 pound of store-bought pizza dough and turn it into homemade doughnuts!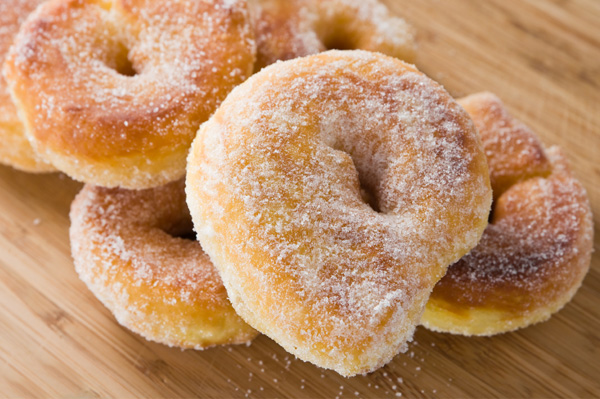 Pizza dough doughnuts
Serves 4-6
Take your pizza dough that you buy at the grocery store bakery and roll it out and watch the magic begin! Turn them into delicious doughnuts, frost with chocolate ganache, Nutella, or coat them with powdered sugar or a cinnamon-sugar mixture!
Ingredients:
1 pound store-bought pizza dough
Vegetable oil
2 cups powdered sugar
1-1/2 cups granulated sugar
3 tablespoons ground cinnamon
2 cups semisweet chocolate chips
1 cup heavy cream
Nutella
Directions:
Heat the vegetable oil in a deep, cast-iron skillet or deep, heavy bottomed pan.
Roll the pizza dough out on the counter to about 1/2-inch thickness.
Use a shot glass or a small juice glass and cut out doughnuts. Using a tiny cutter or your fingers, punch a hole in the center and set centers aside.
Place the powdered sugar in one brown paper bag and set aside.
Mix the granulated sugar and cinnamon together in a separate brown paper bag and set aside.
Heat the heavy cream to a simmer, then pour over the chocolate chips in a bowl, and stir until the chips are melted. Set aside.
Fry the doughnuts and doughnut holes for about 2 minutes, total time — flipping with a metal spatula or spoon, halfway. Doughnuts will initially sink to the bottom, then float to the top.
Remove from the oil when they are lightly browned, and set on a paper towel-lined plate to drain.
Place in topping bag of your choice: either powdered sugar or cinnamon-sugar mixture. If using a chocolate topping, lightly dip one side of the doughnut into the chocolate, then set aside. If using Nutella, allow the doughnut to slightly cool, then using a spatula or butter knife, spread the Nutella on top.
More doughnut recipes to try
Quick fried doughnuts
Old fashioned doughnuts
Homemade chocolate doughnuts