Pumpkin pie cinnamon rolls with orange vanilla glaze
Gooey cinnamon rolls take on a fall twist with creamy pumpkin and orange-scented icing. Pumpkin cinnamon rolls are the perfect treat for a chilly fall or winter morning!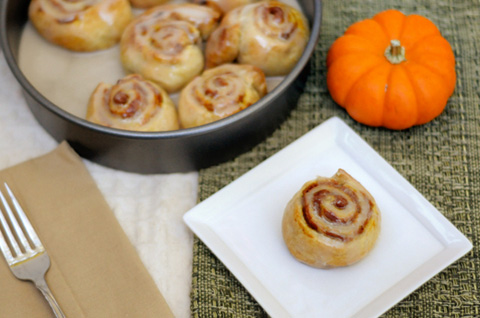 Pumpkin pie cinnamon rolls with orange vanilla glaze
Makes 16 rolls
Ingredients:
2 sheets store-bought puff pastry, defrosted
2/3 cup pumpkin purée
1/4 cup brown sugar
2 teaspoons pumpkin pie spice
2 cups powdered sugar
2 tablespoons melted butter
1 tablespoon orange juice
1 tablespoon vanilla extract
2 teaspoons orange zest
Directions:
Preheat your oven to 400 degrees F.
Spray two 8-inch pie pans with nonstick spray.
In a small bowl whisk together the pumpkin purée, brown sugar and pumpkin pie spice.
Flour a large surface lightly and gently roll each sheet of puff pastry into a 10 x 10-inch square.
Spread half of the pumpkin mixture on each sheet of puff pastry, leaving a half-inch border.
Gently roll the puff pastry and pinch to seal the edges.
Using a sharp knife, slice each log of puff pastry into eight rolls.
Place cut-side-down into the prepared pans.
Bake for 30-40 minutes until the puff pastry is golden and cooked all the way through.
While the rolls are baking, whisk together the powdered sugar, orange juice, vanilla extract and orange purée until smooth and creamy. Set aside.
When the rolls are done, remove from the oven and immediately drizzle with the glaze.
Serve warm or at room temperature.
More delectable cinnamon roll recipes
Blueberry cinnamon rolls
Applesauce cinnamon rolls
Apricot almond sticky buns