Pumpkin spice waffles with warm caramel sauce
This weekend, whip up a batch of these pumpkin spice waffles and serve the warm caramel sauce on top, and sit back and enjoy the love and praise from your family!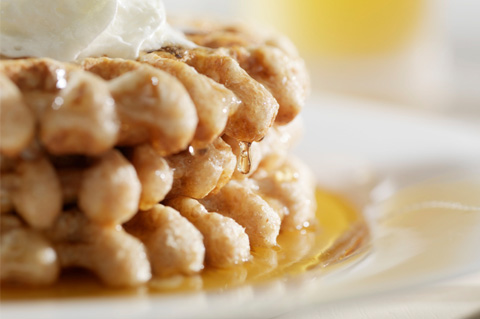 Pumpkin spice waffles with warm caramel sauce
Makes 8 waffles
This recipe will make at least eight waffles — so you can freeze them for the week ahead. Just place a piece of parchment paper between the waffles before placing them in zip-top bags to freeze. On the morning you are ready to eat them, pull them out of the freezer and pop into the toaster!
Ingredients:
2 cups all-purpose flour
3 teaspoons baking powder
1/4 teaspoon salt
2 teaspoons ground cinnamon
1/2 teaspoon freshly grated nutmeg
1/2 teaspoon allspice
2 tablespoons sugar
2 eggs, separated
1 can pumpkin purée
1/2 cup low-fat Greek yogurt
1 teaspoon ground cinnamon
1 cup vanilla soymilk
1 teaspoon vanilla
Cooking spray
Directions:
Spray your waffle iron with cooking spray and preheat.
In one bowl, beat the egg whites using a hand mixer.
In a separate bowl, mix the dry ingredients together, then set aside.
In a large bowl, mix the egg yolks, pumpkin, yogurt, vanilla soymilk, vanilla and additional cinnamon together.
Slowly add in the dry ingredients, whisking or stirring until combined.
Last, using a spatula, carefully fold in the beaten egg whites.
Using an ice cream scoop or a ladle, spoon about 1/3 cup of the batter per waffle onto the hot waffle iron. Cook for about 5 or 7 minutes, or until the steam stops coming out of your waffle iron. Serve with warm caramel sauce.
Warm caramel sauce
Ingredients: 
1 stick of butter
1 cup brown sugar, firmly packed
1/2 cup heavy cream
1 teaspoon vanilla
Directions:
In a small saucepan, combine the brown sugar, butter and whipping cream, and cook over low heat until smooth, whisking to combine. Remove from heat and stir in the vanilla.
Serve warm on top of the pumpkin spice waffles.
Store any leftover caramel sauce in a Mason jar in the refrigerator. Reheat in the microwave by removing the jar lid, then heat to use again.
More waffle recipes to try
Whole grain cinnamon waffles
Autumn apple waffles
Crunchy pecan waffles