Roasted red pepper and pesto grilled cheese recipe
This isn't your plain old grilled cheese. We loaded this one up with fresh pesto, roasted red peppers and creamy cheeses giving this a gourmet spin on this classic sandwich.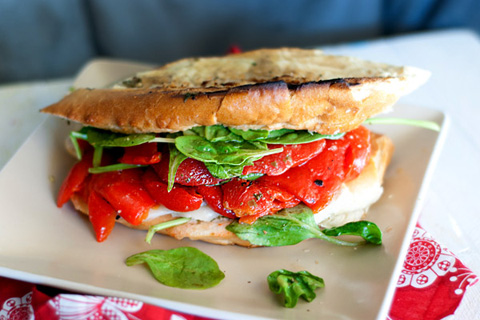 This ooey-gooey grilled cheese is anything but boring. This delicious spin on a grilled cheese is literally bursting with flavors. The pesto is the real star in this recipe giving it that sharp basil and Parmesan flavor. Get creative with your choices of cheeses or simply switch out the types of veggies used to make this into your own personal favorite.
Roasted red pepper and pesto grilled cheese recipe
Yields 2 sandwiches
Ingredients: 
4 slices rustic, thick-sliced Italian or French bread
1 tablespoon softened butter, divided
2 tablespoons fresh basil pesto or fresh baby spinach, divided
2 slices of havarti cheese
2 slices of provolone cheese
Jarred roasted red peppers
Directions:
Spread each slice of the bread with the basil pesto. Add a slice of havarti, some of the roasted red peppers halves, fresh baby spinach or the fresh basil, then add a slice of provolone cheese. Top with the other slice of bread and repeat for the remaining sandwich.
Lightly butter the outside slices of each sandwich. In a grill pan over medium-heat add the sandwiches pressing them down with something heavy, such as a heavy pot or a can. Cook 3-4 minutes or until golden brown. Flip the panini over and cook an additional 3-4 minutes. Remove from the heat and serve warm.
More fun spins on grilled cheeses
Fig and smoked gouda grilled cheese
Cuban grilled cheese
Grilled cheese with apples