Halloween cupcake recipes
Take your cupcakes to a whole new level this Halloween with these three recipes for spider, witch and ghost cupcakes.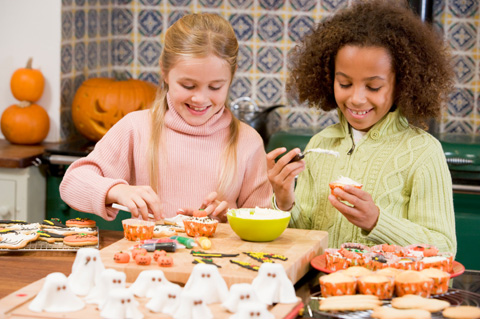 Stenciled spider cupcakes
Makes 18-24 cupcakes
Get Halloween stencils from your local craft supply store. We like spiders and spider webs, but you can find bats, pumpkins and other Halloween stencils too.
Adapted from MarthaStewart.com
Ingredients:
1-1/2 cups all-purpose flour
3/4 cup unsweetened cocoa powder
1-1/2 cups sugar
1-1/2 teaspoons baking soda
3/4 teaspoon baking powder
1/4 teaspoon salt
2 large eggs
3/4 cup water
3/4 cup buttermilk
3 tablespoons vegetable oil
1-1/2 tablespoon vanilla extract
Confectioners' sugar for dusting
Directions:
Preheat oven to 350 degrees F. Line two cupcake tins with paper liners. In a medium-sized bowl, whisk together the flour, cocoa powder, sugar, baking soda, baking powder and salt.
Add in the eggs, water, buttermilk, oil and vanilla and mix for 3-4 minutes.
Divide the batter evenly among prepared muffin tins (use an ice cream scoop to make it easy).
Bake for about 20 minutes, rotating the tins halfway through.
When the cupcakes are done, they should spring back when lightly touched.
Let the cupcakes cool in tins.
Place a stencil on top of each cupcake and sprinkle with confectioners' sugar. Remove the stencil very carefully and serve immediately.
Marshmallow ghost cupcakes
Using the same cupcake recipe above, you can make fun ghost cupcakes. Kids will love making these cupcakes to take to school and share with friends.
Simply trim the edges of two large marshmallows and stick them together. Poke holes to create the eye holes and add one chocolate sprinkle in each hole to create the eyes. Twist the top of the marshmallow ghost to make a slight point on the top of the head. Stick a marshmallow ghost upright on the top of each of your cupcakes.
Gummy witch cupcakes
Again, use the same cupcake recipe as above. This time, you'll be making a witch face on the top of each cupcake using candy. You'll need a green gumdrop smashed flat for her face, black licorice for her hair and a black gumdrop molded into a triangle-shaped hat. Add black sprinkles for her eyes, a small piece of a red gumdrop for her mouth and a green Tic Tac mint for her nose.
More Halloween recipes
Spooky ghost pizza recipe
Grown-up Halloween treats
Halloween party appetizers and drinks