Halloween cookie pizza
A regular batch of pan cookies gets a whole new look and flavor when it's topped with Halloween candy.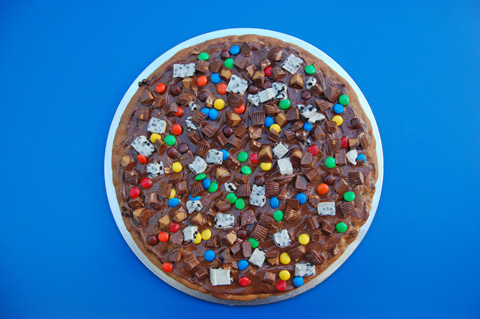 To create this Halloween treat for your family, a Halloween party or your child's classroom, start with your favorite pan cookie recipe — or cheat a little bit by using a roll of store-bought, refrigerated cookie dough.
Halloween cookie pizza
Makes 1 pizza
Ingredients:
1 roll (16.5 ounce) refrigerated sugar cookie dough
1/2 cup peanut butter
1 cup candy corn
1 cup raisins or M&M'S
1/4 cup vanilla ready-to-spread frosting
Directions:
Heat your oven to 350 degrees F. Line a 12- to 14-inch pizza pan with aluminum foil and grease the foil with shortening.
Cut the cookie dough into 1/4-inch thick slices and arrange on the pan with the slices touching each other.
Use your fingers to press the slices to form the crust of your pizza. If the dough is too sticky, flour your fingers first.
Bake 16 to 20 minutes until they are a deep, golden brown. Remove from the oven and allow the crust to cool completely, about 30 minutes.
Lift the crust from the pan using foil. Then, carefully remove the foil from the crust, placing the crust on your serving platter.
Spread the butter over the crust. Sprinkle with candy and raisins.
Add the frosting to a small microwavable bowl and heat in the microwave for 15 seconds. Drizzle the frosting over your pizza. Cut the pizza into slices or squares.
More Halloween recipes
Spooky ghost pizza recipe
Grown-up Halloween treats
Halloween party appetizers and drinks