Homemade snack mix for trick-or-treaters recipe
If you're looking for a healthier alternative to sugary candy for Halloween treats, skip the old lady giveaways like toothbrushes and fruit. Try making little snack bags filled with nutritious popcorn, yogurt-covered raisins and pretzels mixed with just enough popular Halloween candy.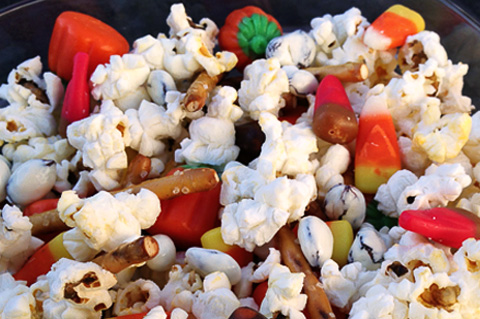 Feel bad giving the neighborhood kids so much sugar on Halloween? Try filling some snack bags with this salty-sweet mix that has just enough candy to keep the kiddos interested. It also makes a great snack mix for parties!
Homemade snack mix for trick-or-treaters recipe
Serves 12
Ingredients:
1 bag natural-flavored microwave popcorn
1 cup pumpkin sugar candies
1/3 cup regular candy corns
1/3 cup chocolate candy corns
1/3 cup candy apple candy corns
1 cup yogurt-covered raisins
1 cup pretzel sticks
Directions:
Pop the popcorn in the microwave according to the package directions. Carefully pour the contents of the bag into a large bowl and allow it to cool for at least 10 minutes. (If possible, remove the un-popped kernels.)
Put the mix into several small sandwich baggies and tie with orange and black ribbon for trick-or-treaters, or serve at a party in a large bowl. Keep leftovers in an airtight container for up to 5 days.
More ghoulish Halloween treats
How to make a graveyard cake
Vampire caramel apples recipe
Spooky ghost pizza recipe