Cajun mac and cheese
Cajun spices bring an already delicious macaroni and cheese meal to the next level. Crunchy breadcrumbs adorn the top, and no one will be able to say no!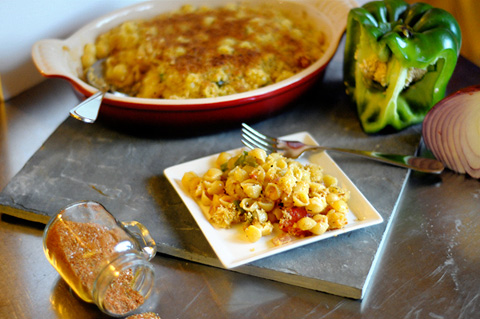 Cajun mac and cheese
Serves 8
Ingredients:
1 pound small shell pasta
1 (12 ounce) can evaporated milk
12 ounces Velveeta cheese, cubed
1 (14.5 ounce) can fire-roasted tomatoes
1 small red onion, chopped
1 small green pepper, chopped
2 tablespoons olive oil
4 tablespoons butter
2 tablespoons Cajun seasoning
1 tablespoon cayenne pepper hot sauce
1/4 cup panko breadcrumbs
Directions:
Preheat the broiler. Spray a 9 x 13-inch pan with nonstick spray.
In a large pot boil the shell pasta according to the package instructions for al dente. Drain and set aside.
In a large sauté pan heat the olive oil over medium heat.
Sauté the onion and pepper together until soft, about 5-7 minutes.
Stir in 1 tablespoon of the Cajun seasoning blend, the cayenne pepper hot sauce, the evaporated milk and the fire-roasted tomatoes. Stir to combine.
Bring the mixture to a simmer and let it cook for about 3-4 minutes to let the flavors come together.
Meanwhile melt the butter and toss it with the breadcrumbs and the remaining Cajun seasoning.
Remove the onion mixture from the heat and stir in the Velveeta until melted and smooth.
Stir in the cooked pasta until everything is incorporated.
Pour the mac and cheese into the prepared baking dish. Top with the butter/breadcrumb mixture.
Broil until golden brown on top.
Serve hot.
More delicious Cajun recipes