Bone crackers recipe
Crackers are one snack even the pickiest of eaters will eat. Paired with a sweet or savory dip and you have one kid-friendly, easy after-school snack. Well, now that Halloween is approaching, why not spook up your normal crackers with these bones instead? Shaped like bones and served with sweet red jam, these scary snacks will bet a hit with your kids — once they are done being spooked!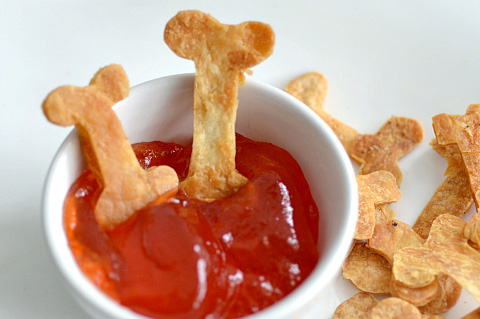 Not only are these crackers scary delicious, they are a breeze to make! With just 3 ingredients and less than 15 minutes, you can easily have a fabulous Halloween snack for your kids and friends. Who said you couldn't eat the funny bone?
Bone crackers
Yields about 24 bones
Ingredients:
About 4 tortillas
Bone cookie cutter
Salt and pepper
Jam or red hummus
Directions: 
Preheat your oven to 350 degrees F. Grease a baking sheet with nonstick cooking spray and set aside.
Using your cookie cutter (or scissors and a stencil) cut out bone shapes into the tortillas. Place the bones onto the prepared baking sheet and sprinkle with salt and pepper.
Bake bones for about 8 minutes, or until golden brown on each side. Serve with a bowl of red dip and enjoy!
More Halloween kid-friendly recipes
Vampire caramel apples
Top treats for a school-sponsored Halloween party
How to make a graveyard cake