Oreo eyeballs recipe
These Oreo eyeballs are a spooky treat that's tasty too!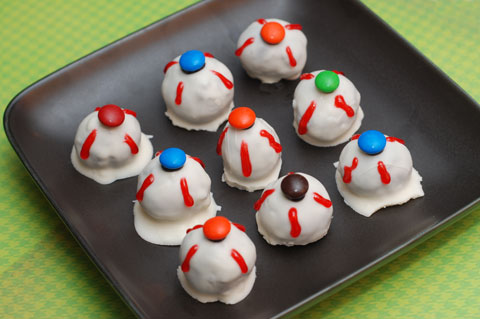 The kids will love getting their hands dirty with this Oreo eyeball recipe that's perfect for Halloween!
Oreo eyeballs recipe
Makes 2 dozen
Ingredients:
1 package Oreos
1 (8 ounce) package cream cheese, softened
12 ounces almond bark
2 dozen M&M'S
Red cake writing gel
Directions:
Put the Oreos in a large mixing bowl. Use a stand mixer or electric mixer on medium speed to crush the Oreos until they are finely ground.
Add in the cream cheese and mix until the Oreo crumbs and cream cheese are well incorporated.
Roll the Oreo mixture into 1-inch balls and set aside.
Melt the almond bark in the microwave at 30 second intervals until it is completely melted.
Dip the Oreo balls in the almond bark until they are completely coated, then transfer the balls to a sheet of wax paper and allow the coating to cool and harden.
Use a dot of the cake writing gel to secure an M&M in place on top of each Oreo ball. Then use the red gel to create squiggly veins on the side of the Oreo balls.
More Halloween recipes
Healthy Halloween recipes
Gluten free Halloween recipes
Spooky Halloween treats