Goat cheese and pear-apple quesadillas
Last minute lunch or dinner without the fuss!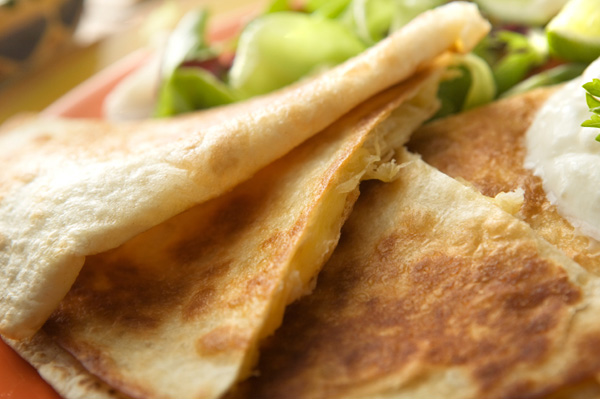 There are some nights when anything more than a glass of wine for mom seems like a chore — and dinner is the last thing on your mind. Keeping fruit, goat cheese, spinach and tortillas on hand, however, make for a quick and easy dinner that is both healthy and delicious! If your store does not offer honey goat cheese, drizzle a little bit of honey with your goat cheese and stir it together to make a tangy-sweet combination. The addition of apples, pears and honey to the quesadillas make this a healthy lunch or dinner, and it just doesn't get any easier!
Goat cheese and pear-apple quesadillas
Serves 4 
Ingredients:
4 ounces honey goat cheese
2 peeled and sliced apples
2 peeled and sliced pears
1 cup fresh baby spinach
8 flour tortillas (any size you desire — if you use larger ones, fold the quesadilla in half, rather than topping with a second tortilla)
1/2 cup mango jam (heated)
1/2 cup guava jelly (heated)
Directions:
In a skillet over medium heat, lightly spray the skillet with cooking spray.
On one side of the tortilla, spread the goat cheese across the tortilla.
Next, add the slices of pears and apples, then the spinach. Top with the tortilla and cook for about 2 to 3 minutes on each side, until the cheese is melted and tortillas are lightly browned.
Cut into triangles with a pizza cutter or knife and serve with the tropical flavored jam or jelly that has been heated, for a yummy dipping sauce. (Any flavor of jam or jelly may be used! Raspberry jam is delicious, too!)
More quesadilla recipes to try
Mango and goat cheese quesadillas
Brie and mango quesadillas
Veggie stuffed quesadillas
---
More From SheKnows Explorer
---
---