Crock pot witch's brew recipe
Grab your cauldron (or your crock pot) to make this tasty green witch's brew drink made with a mixture of juices and spices and dyed green with lime Jell-O. Add some dry ice for an extra spooky effect.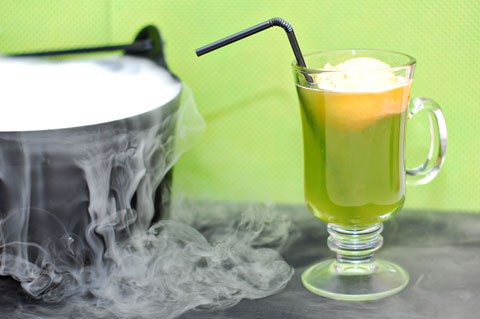 Crock pot witches brew recipe
Serves 10-12
Ingredients:
2 quarts apple juice
1 (46 ounce) can of pineapple juice
1 (.03 ounce) box of lime Jell-O
1 teaspoon allspice
1 teaspoon cinnamon
A dash of nutmeg
Orange sherbet
Directions:
Combine all of the ingredients in a large slow cooker.
Cover and cook on low for 3-4 hours, until the drink mixture is thoroughly warmed.
Pour into individual glasses and top with a scoop of orange sherbet.
More Halloween recipes
Spooky ghost pizza recipe
Halloween hamburgers for kids
Halloween candy cookies