Mini cornbread-stuffed meatloaf
Jazz up boring meatloaf by stuffing it with cornbread, cheese and bacon!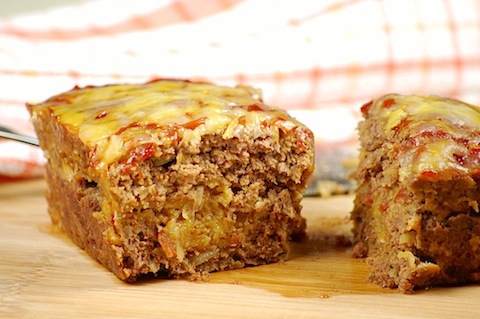 Meatloaf is the ultimate comfort food, but it can be a little boring. By adding some spices and stuffing it with cheesy, bacon cornbread, you'll have a meal that the whole family loves. Plus, anything is more fun in miniature!
Mini cornbread-stuffed meatloaf
Serves 2-4
Ingredients:
1 pound ground beef
1 package dried onion soup mix
1 egg
1/4 cup ketchup
1/2 teaspoon chili powder
1 teaspoon Worcestershire sauce
1/4 cup water
1 cup crumbled cornbread, divided use
2 strips bacon, cooked and crumbled
1/4 cup grated cheese, divided use
Salt
Pepper
Glaze:
2 tablespoons ketchup
1 teaspoon Worcestershire sauce
Hot sauce, optional
Directions:
Preheat your oven to 350 degrees F.
In a large bowl, mix together the onion soup mix, egg, ketchup, chili powder, Worcestershire sauce, water and 1/2 cup of crumbled cornbread. Add the ground beef and gently combine with the mixture.
In another bowl, mix the stuffing by combining the remaining crumbled cornbread, bacon and half the cheese.
In a small bowl, mix all of the glaze ingredients together.
Divide the meat mixture into four and press one piece each into the bottom of two mini loaf pans. Form a depression in each pan, pressing the meat up the sides slightly for a place to put the stuffing.
Fill the depression with half the stuffing for each pan, then place the remaining meat on top, pressing the sides down to adhere to the meat below.
Top with the glaze.
Bake for 40-45 minutes. During the last few minutes of cooking, sprinkle with the remaining cheese.
Remove from the oven and pour the fat off, if needed.
More on meatloaf