Candy corn fudge recipe
Halloween is all about the candy. Buying it, giving it out and definitely consuming it. Although nothing beats an old-fashioned Kit Kat bar, why not break away from the processed bars and make your own candy instead? This tasty fudge is made with your kids' favorite Halloween treat, candy corn, plus tons of chocolate. What's not to love?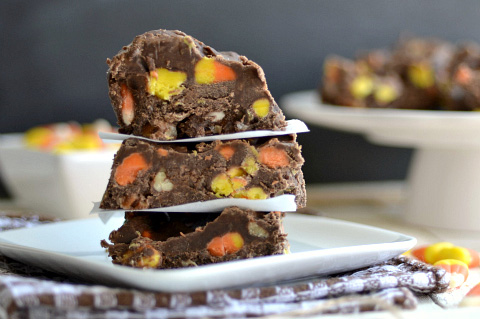 You can't beat candy corn nestled inside milk chocolate and salty peanuts. This fudge is decadent and rich without being overly sweet. This is the perfect treat to bring to your kids' Halloween parties at school or have at your house during trick or treating!
Candy corn fudge recipe
Yields about 40 pieces
Recipe adapted from All You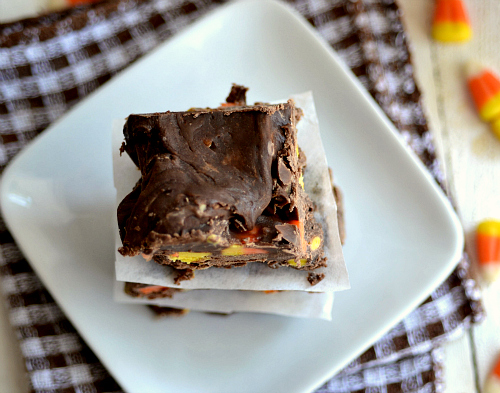 Ingredients:
7 ounces marshmallow cream or fluff
1 cup white sugar
1/2 cup brown sugar
2/3 cup evaporated milk
2-1/2 tablespoons unsalted butter
2 cups regular candy corn, chopped
3/4 cup salted nuts (we used peanuts)
1 cup milk chocolate chips
Orange icing gel for garnish
Directions: 
Line an 8-inch baking dish with foil and lightly spray the foil with nonstick cooking spray. In a large pot, mix the marshmallow fluff, sugar, evaporated milk and butter. Bring mixture to a boil over medium-high heat and stir constantly until the mixture reaches 235 degrees F on a thermometer.
Remove from the heat and stir in the candy corn, nuts and chocolate chips. Mix until the chocolate has melted. Pour the mixture into the prepared baking dish and chill for at least 2 hours, or until the mixture has set.
Cut the fudge into squares and enjoy! Drizzle with icing if you want!
More Halloween candy recipes
Halloween candy cookies
Candy corn kiss cookie recipe
Easy, no bake homemade Halloween candy