Foil-pack hobo stew recipe
Camping season is almost at an end, but you can enjoy this outdoor-cooking-inspired delight all year. Just let everyone in the family pile their favorite ingredients on a sheet of foil, wrap and cook to enjoy this rustic dish, no pot required.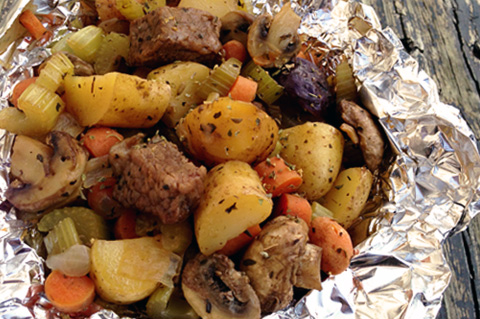 With this savory recipe, you can toss together whatever proteins and veggies you have to make a hearty stew in a foil pack -- in the oven, on the grill or over the campfire. It's a great dish for families with more than one picky eater. We've given you our favorite recipe here, but you can substitute the meat for any other protein (including tofu!) and the veggies for your favorites.
Tip: If you're cooking in the oven, you can use the aluminum foil that's lined with parchment on one side, but on an open fire, the flames could burn the parchment part.
Foil-pack hobo stew recipe
Serves 4
Camping supplies:
4 feet heavy-duty aluminum foil
4 forks
4 camping plates or bowls (optional)
Tongs
Campfire grate
Hot pads, towels or pot holders (for handling hot packets)
Cooking spray (optional)
Ingredients:
1 pound stew meat, cubed
2 cups carrots, sliced
2 cups celery, roughly chopped
1 (1-1/2 pound) bag fingerling potatoes (any variety), cubed
1 medium onion, roughly chopped
8 ounces button or baby bella mushrooms, cut in thirds
4 tablespoons Worcestershire sauce
4 pats butter (optional)
2 teaspoons herbs de Provence
Salt and pepper to taste
4 teaspoons water (optional)
Directions:
If you're taking this to eat while camping, do all your chopping before you leave (vegetables should be about a third the size of the meat cubes for optimal cooking) and store the veggies and meats in individual containers in an ice-packed cooler. Make sure the potatoes are kept in water (to keep them from browning) and that the mushrooms are kept away from water (to keep them from getting waterlogged. Marinate the meat in the Worcestershire sauce and store it in a separate container to keep it from contaminating the other ingredients.
When you're ready to eat, divide the aluminum foil into four foot-long strips and spray with cooking spray if desired. Each family member can pack on whatever amount of veggies and meat they'd like, but each layer should be salted lightly. Don't over-pack the foil for a bigger portion, but make two packets instead.
Top each pile of raw food with a pat of butter, 1/2 teaspoon of herbs de Provence, a little pepper and a little water if desired (or if you don't have butter).
Bring the longer edges of the foil together in the middle to form a tent over the food and fold them together three or four times, creasing it well each time (like you're closing up a chip bag). Scrunch the ends in well to ensure there's no leakage.
Place the packet over heat (inside a preheated 350 degree F oven, on the campfire grate or on the grill). Cook for 15 minutes to half an hour or until the meat is cooked through and the veggies are tender. Cooking times will vary with the method you use and the size of your food chunks.
Serve right in the foil pack (when cooled) or transfer to a plate or bowl to eat.
About herbs de Provence
Herbs de Provence is a mixture of French provincial dried herbs, usually containing savory, fennel, basil, thyme and lavender in addition to other herbs. It's a great camping herb because it goes well with just about anything you can hunt or catch!
More camping recipes
Gourmet camping recipes
Easy vegan camping food ideas
Camping fried biscuits