Italian queso fundido
Traditional Mexican queso fundido takes a trip to Italy with Italian sausage and delicious unexpected spices. Serve hot for any game day celebration with slices of crusty toasted baguette, tortilla chips or sliced vegetables!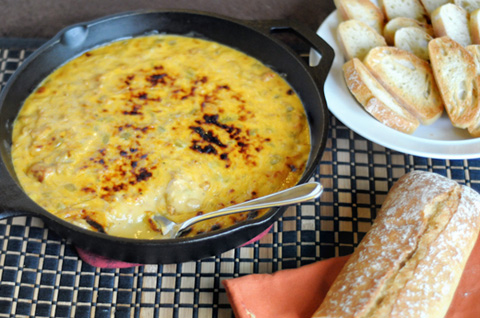 Italian queso fundido
Serves 8-10
Ingredients:
1 pound Italian sausage of choice
1 (12 ounce) can evaporated milk
1 (4 ounce) can diced green chiles
6 ounces American cheese
1 cup shredded mild cheddar cheese
1 cup shredded mozzarella cheese
3 cloves garlic, minced
1 teaspoon Italian seasoning
1 teaspoon chili powder
Directions:
Preheat the broiler.
In a large skillet over medium heat, brown the Italian sausage and garlic and cook until completely cooked through.
Drain any grease from the pan, then return to low heat and pour in the evaporated milk and green chiles.
Stir to combine and let cook for 2-3 minutes to heat through.
Remove from heat and stir in the cheeses, Italian seasoning and chili powder.
Stir to combine until all of the cheese is completely melted.
Place the pan under the broiler until the top of the queso is bubbly and golden brown.
Serve hot with sliced toasted baguette, tortilla chips or sliced vegetables.
More delicious queso recipes
Spicy chili con queso in a crock pot
Meaty queso dip recipe
Low fat chili con queso recipe