Homemade pretzels and dip recipe
Buying freshly made pretzels with a dip from a store in the mall may be nearly as expensive as a whole meal out, when you have a family. Skip the mall crowds, the hassle and expense and make your own soft pretzels right at home -- complete with a delicious cheese dip.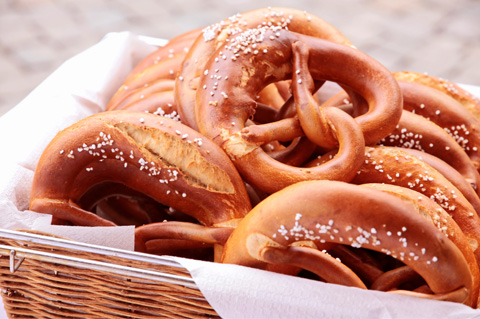 Homemade pretzels and dip recipe
Makes 20 pretzels
Ingredients:
2 packages active dry yeast
1-1/2 cups warm water
4 cups all-purpose flour
2 tablespoons butter, softened
1 tablespoon sugar
1/2 teaspoon salt
4 teaspoons baking soda
1/2 cup cold water
Coarsely ground salt
1/4 cup melted butter
Cheese sauce:
1 (8 ounce) package Velveeta cheese
1 (3 ounce) package cream cheese
2 tablespoons milk
Directions:
Combine the yeast and the water in a large bowl to dissolve the yeast.
Add in the flour, sugar and 2 tablespoons of butter, stirring until a dough is formed.
Cover the dough with a clean towel and let it rise for 15 minutes.
Punch the dough down and divide it into 20 equal sections.
Preheat the oven to 450 degrees F.
On a floured surface, roll each dough section into a 16-inch long roll of dough. Fold the dough into a pretzel shape.
In a separate bowl, combine the baking soda and cold water, and brush the mixture over the pretzels. Sprinkle the course salt over the pretzels.
Grease two baking sheets with cooking spray and lay the pretzels out on the trays. Bake in the preheated oven for 15-20 minutes until the pretzels are golden brown.
Melt the butter in the microwave and drizzle over the warm pretzels.
More snack ideas
Tropical snack mix recipe
Healthy road trip snacks
3 Healthy chip recipes