5 Simply delicious soup garnishes
Instead of just ladling soup into bowls for serving, update your everyday soup recipes with a tasty garnish. Go beyond the little sprinkle of fresh herbs or swirl of cream and finesse your soups with homemade pesto croutons, candied nuts, gremolata and more.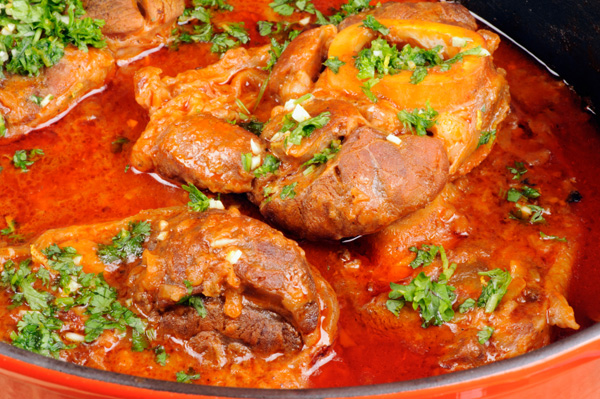 Gremolata
Yields about 1/2 cup
A popular garnish for osso buco, a hearty Italian stew, gremolata is a flavorful combination of lemon zest, parsley and garlic.
Ingredients:
4 tablespoons lemon zest
2 tablespoons finely chopped fresh parsley
1 tablespoon minced garlic
1 tablespoon olive oil
Pinch of salt
Directions:
Combine all ingredients in a small bowl.
To garnish, mound 1 tablespoon or so of the gremolata on top of a soup or a stew.
Homemade pesto croutons
Yields 2 cups
Croutons out of a bag are certainly better than nothing, but homemade pesto croutons will give your Italian-inspired soups a gourmet garnish.
Ingredients:
1 tablespoon olive oil
3 tablespoons storebought or homemade pesto
2 cups cubed day-old sourdough bread
Directions:
Preheat your oven to 350 degrees F.
In a large bowl, whisk together oil and pesto.
Add bread cubes to the bowl and toss well to coat.
Spread the bread cubes out in an even layer on a large rimmed baking sheet.
Bake, stirring often, for 15 minutes or until the bread is golden brown and crisp.
Cool completely and store in an airtight container for up to 1 week.
To garnish, simply ladle your soup into some bowls and float a few croutons on top.
Caramelized onions
Yields 1 cup
Caramelized onions lend a tangy sweetness that goes well with tomato or cream-based soups. A little mound of tender browned onions can be swirled into a soup to add another dimension of flavor.
Ingredients:
2 tablespoons olive oil
1 large red onion, halved, thinly sliced
2 tablespoons balsamic vinegar
Directions:
Heat the oil in a large skillet over medium-high heat.
Add the onions, stirring to separate. Cook, stirring often, until translucent.
Reduce the heat to medium and continue to cook, stirring often, for 15 minutes or until the onions are lightly browned.
Sprinkle with the vinegar and sugar. Stir to coat. Cook for 1 more minute, stirring often.
Garnish your soup while the onions are hot or at room temperature.
Cheese crisps
Yields about 30
A favorite for tomato soup, these cheese crisps will go well with any soup that needs a little crispy cheese flair.
Ingredients:
1 cup shredded cheese
Generous pinch of dried herbs and/or spices of your choice (optional)
Directions:
Preheat your oven to 350 degrees F and line two or three baking sheets with parchment paper.
In a medium bowl, mix together cheese and seasonings, if using.
Mound 1- to 2-teaspoon lumps of cheese on the baking sheets, keeping 2 inches between each mound.
Bake for 5 to 7 minutes or until the edges of the crisps start to brown.
Remove the baking sheets from the oven. Lift the parchment paper from the baking sheets and set on wire racks to continue cooling and crisping the crisps.
To garnish, ladle your soup into bowls and float a crisp or two on top.
Spicy candied walnuts or pecans
Yields 1-1/2 cups
Especially delicious atop creamy pumpkin soup, these sweet and spicy nuts are a great garnish for carrot, sweet potato or winter squash soups too. You can also sprinkle candied walnuts or pecans on your green salads or simply eat them as a yummy snack.
Ingredients:
1/3 cup firmly packed brown sugar
1/4 cup water
2 tablespoons (1/4 stick) butter
Generous pinch of salt
Generous pinch of cinnamon
Pinch of cayenne
1-1/2 cups walnuts or pecans
Directions:
In a large skillet, combine the brown sugar, water, butter, salt, cinnamon and cayenne.
Bring the mixture to a boil over medium-high heat, stirring often. Boil for 1 minute or until syrupy.
Add the walnuts or pecans and stir to coat. Continue to cook, stirring often, until the syrup forms a glaze on the nuts.
Transfer to a lightly greased baking sheet. Use two forks to separate the nuts.
Let it cool completely. Store in an airtight container for up to 1 week.
To garnish, set whole nuts on top of your soup or sprinkle the coarsely chopped nuts in the center of each bowl of soup.
Garnishing tip: Keep in mind that garnishes are just a little something extra to give soup a fancy look and an additional component of complementary flavor. The key to soup success is to have a light hand when garnishing because too much of a good thing will actually overpower your soup.
Get cooking with these soup recipes
Classic osso buco recipe
Souper suppers: Satisfying soup recipes
Mushroom soup