Cinnamon pumpkin pull-apart bread
Pull apart breads are easy and fun to make. Put a fall spin on traditional pull apart bread by making it with pumpkin puree, cinnamon and sugar -- perfect for this time of year!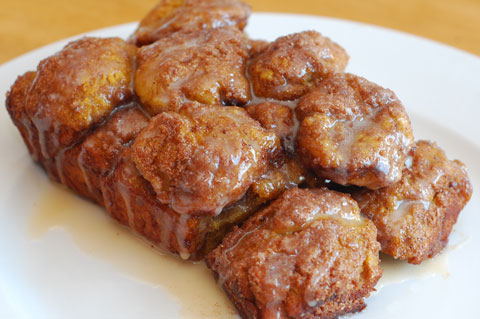 Cinnamon pumpkin pull-apart bread
Ingredients:
2 tablespoons butter
1/2 cup milk
1/2 cup sugar
1 teaspoon salt
1 packet (2-1/2 teaspoons) active dry yeast
3/4 cup pumpkin puree
2-1/2 cups bread flour
1 tablespoon pumpkin pie spice
For the sugar coating:
1 cup sugar
2 teaspoons cinnamon
1/2 teaspoon nutmeg
4 tablespoons melted butter
For the glaze:
1 tablespoon maple syrup
3 tablespoons milk
1/2 cup powdered sugar
Directions:
In a small sauce pan, heat the butter and the milk over medium heat until the butter is melted.
Transfer to a large bowl and add in the sugar and yeast. Allow the mixture to sit for approximately 10 minutes.
Add in the pumpkin puree and pumpkin pie spice and mix until well combined.
Slowly mix in the bread flour until all ingredients are well incorporated, and a sticky dough is formed.
Cover the bowl with a clean towel and allow it to rise for 1 hour.
As the dough rises, combine all ingredients for the sugar coating in a small bowl, and grease a 9 x 5-inch loaf pan.
Preheat the oven to 350 degrees F.
Once the dough has risen, roll the dough into 1-inch balls and roll the balls in the sugar coating, then stack the dough balls in the loaf pan.
Bake the bread in the preheated oven for 35-40 minutes, until the dough begins to brown.
Remove the bread from the oven and allow it to cool. As it cools, mix the glaze by combining the maple syrup, milk and powdered sugar in a small bowl.
Drizzle the glaze over the bread and serve.
More recipes to try
Pumpkin spice latte
Baked pumpkin mac n cheese
Crock pot pumpkin butter