3 Kid-friendly broccoli recipes
If your kids are like 98 percent of the kids out there, there's a good chance they won't eat broccoli. Maybe it's the green color, the strange texture or the fact they know "it's good for them," many kids have a strong aversion to this vegetable. Instead of bribing them to eat it with sweets or money, why not serve it up in dishes they'll devour without complaining?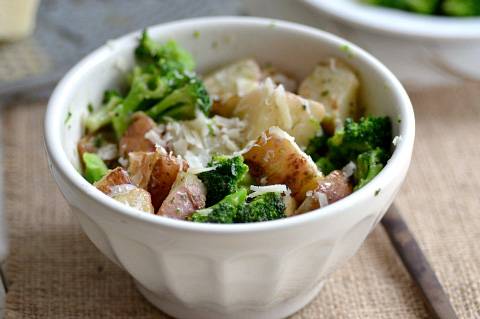 Broccoli is hidden in these kid-approved dishes, like pasta with Alfredo sauce, roasted potatoes and cheddar broccoli quiches. Paired with cheese, creamy sauces and in bite-size quiches, your kids will love the taste of this healthy green vegetable. You may even have them asking for more!
Roasted potatoes with broccoli
Serves about 4
Ingredients: 
For the potatoes: 
1-1/4 pound baby red potatoes
1 teaspoon garlic powder
1/2 teaspoon salt
Dash of pepper
For the sauce:
1/2 cup butter
2-1/2 cloves garlic, minced
Dash of dried basil
Dash of dried oregano
2 tablespoons Parmesan cheese
1 tablespoon heavy cream
For the dish: 
1 cup broccoli florets, steamed and chopped
Directions: 
To prepare the potatoes: Preheat your oven to 400 degrees F. Mix the salt, pepper and garlic powder together in a small bowl. Cut the potatoes into wedges and place on a foil lined baking sheet and lightly grease with nonstick cooking spray. Liberally sprinkle potatoes with salt and pepper mixture. Bake for about 30 - 40 minutes, or until the edges of the potatoes are golden brown and soft.
Meanwhile, make the sauce by melting the butter in a large pot with minced garlic, oregano and basil. Heat until the butter is melted. Stir in the heavy cream and Parmesan and cook a few minutes longer, or until the sauce is thick. Add additional salt and pepper to taste.
In a large bowl, mix the chopped broccoli and potatoes together. Pour the sauce over the mixture and serve immediately.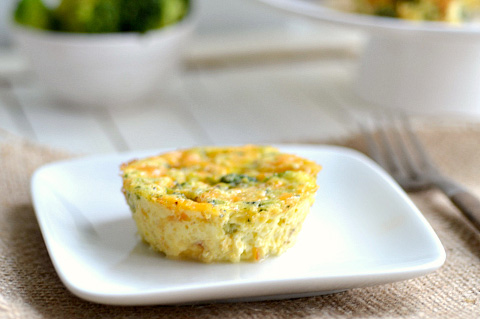 Bite-size cheddar broccoli quiches
Recipe adapted from My Recipes
Yields about 4 quiches
Ingredients:
2 cups broccoli florets, chopped and steamed
1 cup light cream
1 cup 1 percent milk
2 eggs
2 egg yolks
3/4 cup part-skim sharp cheddar
1/4 cup grated part-skim Parmesan cheese
Salt and pepper to taste
Directions: 
Preheat your oven to 350 degrees F. Liberally grease a muffin tin with nonstick cooking spray.
In a mixing bowl, whisk together the eggs, egg yolks, cream, milk, salt and pepper and cheddar cheese. Stir in the chopped broccoli.
Ladle the egg mixture into the prepared muffin cavities, until about 2/3 the way full. Sprinkle each one with Parmesan cheese.
Bake for about 25 minutes, or until lightly browned and solid. Let chill slightly then enjoy!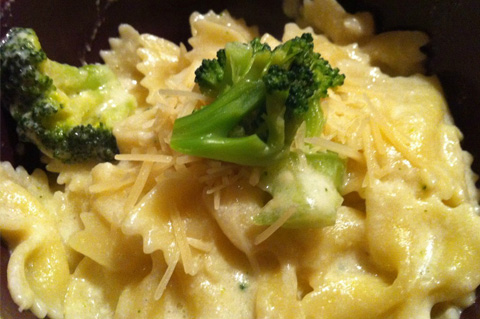 Low-fat broccoli Alfredo
Serves about 4
Ingredients: 
2 ounces of fettuccine or bow-tie pasta noodles
1 cup of broccoli florets
1-1/2  cups skim milk
1 tablespoon unsalted butter
1 tablespoon flour
3/4  cup freshly grated Parmesan
Dash of sea salt
Directions: 
Cook the pasta according to the package directions, rinse and set aside.
Steam or boil the broccoli and set aside.
Heat the skim milk and butter in a large saucepan over low heat. Slowly whisk in the flour. Simmer until slightly thickened, whisking constantly, 1 to 2 minutes.
Once the sauce is thickened, remove from the heat and stir in the Parmesan and salt. Mix well.
Add the pasta and broccoli and stir over low heat until heated through.
More kid-friendly recipes
5 Fabulous kid-friendly smoothie recipes
Kid-friendly vegetable recipes
10 Kid-friendly breakfasts on the go