3 Football party dip recipes
Kickoff game day the right way with these three fabulous football party dip recipes perfect for the next game.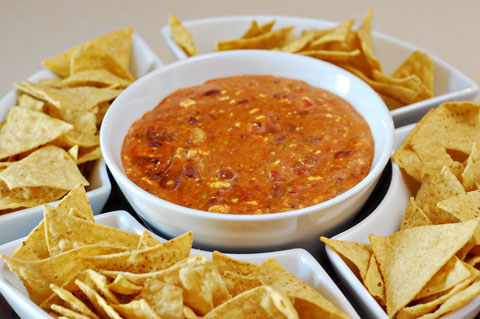 Chili bean dip recipe
Ingredients:
2 (14 ounce) cans Hormel chili
1 (10 ounce) can diced tomatoes with green chiles
1 (8 ounce) block cream cheese
1 cup shredded cheese
1/2 cup chopped green onion
1 tablespoon chopped fresh cilantro
1 teaspoon cumin
Salt and pepper to taste
Directions:
Preheat the oven to 350 degrees F.
Combine all ingredients in a large bowl, then transfer the ingredients to a 1-1/2 quart baking dish.
Bake the dip for 15-20 minutes, until it is bubbly and warmed all the way through.
Allow the dip to cool slightly, then serve alongside tortilla chips.
Velveeta dip recipe
Ingredients:
1 pound ground beef
1 (32 ounce) block Velveeta cheese
1 (8 ounce) block cream cheese
1 (10 ounce) can Rotel
1/4 cup sliced green onions
Directions:
Brown the ground beef in a skillet, then drain away the liquid.
Cut the Velveeta cheese and cream cheese into 1-inch cubes.
Add all ingredients to the crock-pot and let it simmer on low until all of the cheese is completely melted. Serve warm.
Spicy vegetable dip recipe
Ingredients:
1 (8 ounce) package cream cheese
1/2 cup sour cream
1/2 cup grated cheese
1/4 cup chopped green onions
2 tablespoons diced jalapeño pepper
1 tablespoon hot sauce
1/2 teaspoon chili powder
Directions:
In a medium bowl, mix all ingredients until well combined.
Chill in the refrigerator for 1 hour before serving.
More football recipes
Football party pizza recipes
Football game snack recipes
Top 5 recipes for a game day party