Crock-pot blueberry cobbler
Use your crock-pot for more than stews and casseroles this fall. Also create some amazing desserts, like this blueberry cobbler.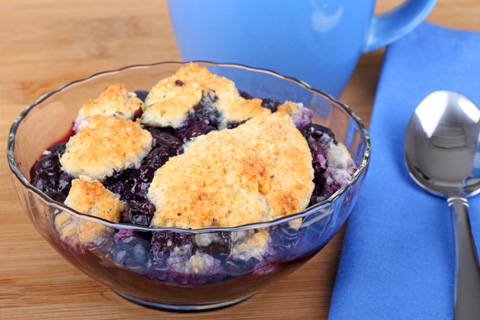 Crock-pot blueberry cobbler
Serves 8
Cobbler is a fall favorite and this one is super easy to make. Created with a combination of raspberries and blueberries, this crock-pot dessert will be a family favorite this season.
Ingredients:
1-1/4 cups all-purpose flour, divided
2 tablespoons plus 1 cup sugar, divided
1 teaspoon baking powder
1/2 teaspoon ground cinnamon
1/4 teaspoon ground nutmeg
1 egg
1/4 cup skim milk
2 tablespoons oil
1-1/2 cups raspberries
2-1/2 cups blueberries
Directions:
Combine 1 cup of flour, 2 tablespoons of sugar, baking powder, cinnamon and nutmeg in a large bowl.
In a separate bowl, combine a lightly beaten egg, milk and oil. Stir the egg mixture into the dry ingredients until moistened.
Spray your crock-pot or slow cooker with cooking spray. Spread the mixture evenly into the bottom.
Combine the remaining flour, sugar and a dash of salt in a large bowl. Add the berries and coat.
Spread the berry mixture over the batter. Cover and cook on high for 2-1/2 hours or until an inserted toothpick comes out clean.
Top with whipped cream, ice cream or eat on its own!
More crock-pot recipes
Not the Perfect Cook: Lava cake in a crock-pot
3 Easy crock-pot chicken recipes
Easy crock-pot corn on the cob with garlic butter