Healthy homemade pop tarts recipe
In most families, it seems like the kids' favorite foods are not usually the healthiest foods. Luckily, with a little extra effort you can still serve up your child's favorite breakfast treat without all the sugar, preservatives and processed ingredients. Try this homemade recipe for a healthy spin on pop tarts.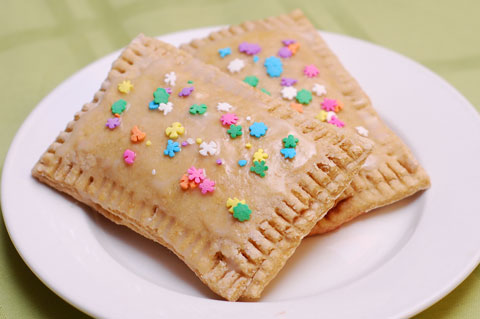 Homemade pop tarts recipe
Makes 8 pop tarts
Ingredients:
3-1/2 cups whole wheat flour
1 cup softened butter
1/2 cup milk
1 egg
1 teaspoon vanilla extract
1/2 teaspoon salt
3/4 cup jam or fresh fruit
For the topping:
1/2 cup powdered sugar
1 tablespoon milk
1 tablespoon lemon juice
Sprinkles (optional)
Directions:
Preheat the oven to 350 degrees F.
In a large bowl, combine all ingredients until a dough is formed.
Roll the dough out to a 1/8-inch thickness.
Cut out 16 rectangles from the dough.
Lay 8 of the rectangles out on a cookie sheet.
Spoon approximately 1-1/2 tablespoons of jam or fresh fruit onto the center of each rectangle.
Top with the remaining 8 rectangles and press a fork down along the edges to seal them.
Bake in the oven for 10-12 minutes, until the dough is lightly browned.
While the pop tarts cool, mix together the frosting ingredients in a small bowl.
Spread the frosting on top of each of the pastries and top with sprinkles, if desired.
More breakfast ideas
The best kid-friendly breakfast ideas
Simple school day breakfasts
5 Healthy breakfast recipes the kids can make