White chocolate s'mores bars
Milk chocolate is not the only one who can come to the s'mores party. This time we give white chocolate a go!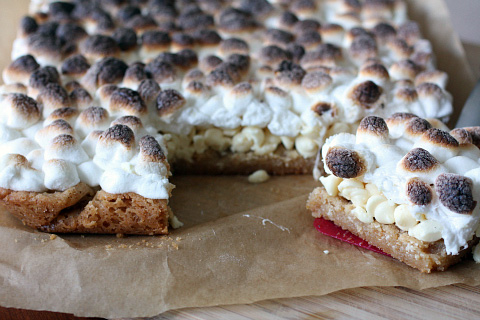 White chocolate s'mores bars
Yield 9 x 13-inch pan
Adapted from Betty Crocker
S'mores are the classic summertime dessert. However, we took this classic and gave it a little spin! Creamy white chocolate replaces milk chocolate to create a sweet and delicious treat! The simple cookie bottom is thrown together in a little under 10 minutes and the entire dessert can be done in less than 30 minutes. This is the type of treat you have been waiting for!
Ingredients:
1 package dry sugar cookie mix
1 cup graham cracker crumbs
2 stick butter, melted
2 cups white chocolate morsels
1 bag miniature marshmallows
Directions:
Line a 9 x 13-inch dish with parchment paper and preheat the oven to 375 degrees F.
In a large bowl add the dry sugar cookie mix, graham cracker crumbs and melted butter.
Press into the pan and bake for 20 minutes.
When you remove the bars from the oven top with the white chocolate morsels. If they do not melt enough simply pop into the oven and let morsels get warm for about 2 minutes. Spread out over the cookie bottom.
Top with the marshmallows and put under the broiler for about 5 minutes. Be careful not to burn the marshmallows or they will become hard.
Let cool for a few minutes before cutting into the bars.
More s'mores recipes
S'mores cheesecake ice cream recipe
Simple s'mores pie recipe
S'mores martini recipe